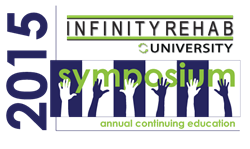 We've worked hard to put together a great selection of courses that are designed to provide attendees with evidence-based education and even a course that covers practical application of leadership development."
Denver, CO (PRWEB) March 30, 2015
Infinity Rehab continues ten years of providing quality education opportunities for its clinicians and non-affiliated therapists through the contract therapy company's annual Continuing Education Symposiums. The classes at the 2015 Mountain Symposium offer attendees a range of options to enhance clinical practices, explore successful leadership qualities, and discover ways to reduce workday stress.
"Therapists play a very important role in helping patients achieve rehabilitation goals after suffering an illness or injury," says Tim Esau, PT, MSPT, Director of Compliance. "Infinity Rehab Symposiums are a great way for therapists to stay on top of new approaches to treating patients and advancements in their respective disciplines. We've worked hard to put together a great selection of courses that are designed to provide attendees with evidence-based education and even a course that covers practical application of leadership development."
The 2015 Mountain Continuing Education Symposium takes place on April 11th through the 12th at the Hyatt Regency - Denver Tech Center. Visit http://www.infinityrehab.com/mtnsymposium to register and for complete details. Below is a select list and short description of several courses offered at the Symposium.
The Five Practices of Exemplary Leadership (7 hours)
This course presents an evidence-based approach to leadership development rooted in 25 years of research. Practices presented include common behaviors that can be learned and are often found among effective leaders. This course includes instruction in sound leadership principles and participation in practical application exercises. Attendees will be able to immediately begin to apply the five practices in the real world after the course. – Presented by Derek Fenwick, PT
Cardiopulmonary Considerations in Rehabilitation: Critical Concepts Affecting Your Practice (7 hours)
Monitoring patients for cardiopulmonary issues is critical to providing justifying treatment in the post-acute arena. This course reviews pathophysiology of common cardiac and pulmonary diagnoses as well as evidence-based treatment parameters for those diagnoses. Emphasis will be placed on patient monitoring, exercise methods and therapeutic progression. – Presented by Donald Shaw, PT
Joint Replacement Rehabilitation: Geriatrics in Now Geri-Active (7 hours)
Baby boomers want to remain as active as possible and be able to use their "new and bionic" prosthesis to get down on the floor and play with grandkids, or ski and hike. This course reviews modern technology and evidence-based knowledge to treat patients in post-acute care. – Presented by John O'Halloran, PT
Optimizing Intensity in the Post-Acute Care Rehab Setting (7 hours)
Recent studies have demonstrated that intensity in rehabilitation is important to obtaining maximal outcomes in therapy. This course reviews the current literature and focuses on how to implement Enhanced Medical Rehabilitation to obtain the best functional outcome for your client. – Presented by Helen Host, PT and Mary Hildebrand, OT
Dysphagia Intervention: From Compensation to Restoring Function & Modifying for Optimal Outcomes (7 hours)
This course reviews currently understood neural circuitry involved in stroke, head and neck cancers neurodegenerative diseases including dementia, aging and frailty. Treatment interventions are presented from the bottom-up and top-down perspectives for systematically approaching dysphagia treatment. – Presented by JoAnne Robbins, SLP
About Infinity Rehab
Established in 1999, Infinity Rehab is a leading provider of clinically intensive, comprehensive physical, occupational and speech therapy in sub-acute and long-term care environments. Based in Wilsonville, Oregon, the company was founded and is led by a team of therapists. Infinity Rehab is a member of the Avamere Family of Companies and has operations in nine states.