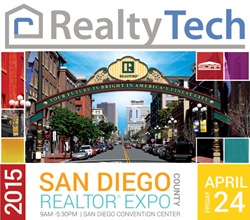 Thousand Oaks, CA (PRWEB) March 31, 2015
RealtyTech Inc., A Thousand Oaks, CA Real Estate Software and Internet Marketing Corporation, will be proudly showcasing their new product lines and demonstrating the newest updates to the Agent123 and IDX123 Premium Suite at the San Diego Association of Realtors® (SDAR) Expo on April 24, 2015 at the San Diego Convention Center from 10am to 2pm, booth 628.
The SDAR Expo is the largest Realtor® event in San Diego County.
RealtyTech Inc will be presenting their new line of Premium Agent 123 websites and Premium IDX123 MLS home search products. In addition Richard Uzelac, CEO of RealtyTech is meeting with many Real Estate Firms and Franchise executives to offer products in bulk to both Offices and Franchises.
"We have been attending this convention for the past 12 years and every year it gets better! We are excited to be meeting with so many real estate executives and showing off the best real estate online products available today," said Richard Uzelac, CEO of RealtyTech Inc. "These are exciting times of technology advancements and breakthroughs. Our new Premium line are everything we hope for and more. They are a culmination over 12 years of work and expertise."
Lance Grove, RealtyTech Senior Account Executive, will be demoing the new social media sharing functionality and Polygon Custom Link Creator on the newest responsive templates.
"We have been hard at work developing and launching cutting edge tools for real estate professionals since last year's expo," said RealtyTech Senior Account Executive, Lance Grove. "We are excited for the opportunity to present our newest features in social media marketing, responsive websites and our Polygon Map Search."
RealtyTech will be offering exclusive Trade Show Pricing to those attending the SDAR Expo. To book an appointment with RealtyTech, call (877) 832-4428.
For more information about the SDAR Expo, visit https://sdarexpo.com.
About RealtyTech
RealtyTech is a Thousand Oaks, CA-based Company that gives real estate professionals the tools necessary to stand out and succeed in today's online marketplace combined with solution minded live California-based customer service. We have over 15 years of online real estate marketing expertise and have spent over 10 years of that experience, offering Agent and Office websites, IDX Home searches and Internet marketing. For more information, please call (877) 832-4428 or visit http://www.RealtyTech.com.