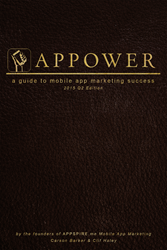 The app world is such an ever-evolving industry that all app enthusiasts need this book.
Austin, Tx (PRWEB) March 31, 2015
Appower Q2 2015 edition, an e-book about app marketing success tactics, was published this week in the Amazon/Kindle store. Written by APPSPIRE.me co-founders Carson Barker and Clif Haley, the book instructs readers on how to turn a mobile app into a successful business. Sections of the book include CPI advertising, Social Media Strategies, App Store Optimization and more. The APPSPIRE.me team handed out physical copies of the book during SXSW 2015 to promote the book release.
"We always have an overwhelmingly positive response from the South by Southwest tech community about our e-book," said Barker, CEO of APPSPIRE.me. "This e-book is packed with pertinent, updated information on mobile app marketing that every app owner or app team needs."
Updated sections of the book include Advertising, Social Media, and ASO (App Store Optimization). The book gives detailed, step-by-step instructions on how to take an iTunes or Google Play app at any phase and dramatically increase store rankings, results, and ROI. Based on both authors' years of app marketing experience, Appower is a necessary tool for every app in the app store.
"The information on app marketing in this book is unparalleled, and the app world is such an ever-evolving industry that all app enthusiasts need this book," said Haley.
Appower is currently available in the Amazon/Kindle for free for a limited time only. For more information on APPSPIRE.me, visit their website at http://www.appspire.me.
ABOUT:
Founded in 2009 with offices in Austin, Texas and London, U.K, APPSPIRE.me is a leading mobile app marketing agency that specializes in getting their clients maximum downloads, major media coverage, top store rankings and more. APPSPIRE.me has been publishing Appower since 2013, and the authors update it every quarter with new information on the app marketing industry. For more information on how to make your app successful, visit the company's website.