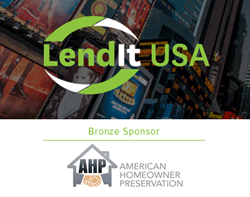 Chicago, IL (PRWEB) March 30, 2015
American Homeowner Preservation ("AHP") will sponsor LendIt USA, the largest online lending platform conference in the world. In addition, AHP's Founder and CEO, Jorge Newbery, will moderate the Residential Real Estate Platforms panel. LendIt USA is the industry's annual flagship conference and brings together every major online lending platform from around the world.
Financial innovators, investors and pioneers from all over the world will convene in New York City on April 13 through 15. Over 1,500 attendees are expected to attend for an opportunity to learn from market leaders, form key business alliances, and showcase and launch industry-moving products and services. Since the first LendIt conference in 2013, LendIt USA has grown to become an essential event for anyone conducting business within the online lending community. Acknowledging the worldwide growth of online lending, LendIt conferences are now also held in Europe and China.
Featured speakers include Renaud Laplanche of Lending Club, Ron Suber of Prosper, and Lawrence Summers, the former U.S. Treasury Secretary. Panels will include discussions on online lending for loans for consumers, small businesses, students, real estate investment, mortgages, receivables and energy.
AHP's Newbery will moderate the real estate panel chockfull of real estate crowdfunding's heavy hitters, including Jason Fritton of Patch of Land, Brett Crosby of PeerStreet, Matt Humphrey of LendingHome, Christian Faes of LendInvest, and Nav Athwal of RealtyShares. "LendIt's is a must-attend event for platform operators, investors, bankers, and service providers – anyone involved in online lending," said Newbery. "I am looking forward to sharing American Homeowner Preservation's experience and learning from others as we all build a better lending ecosystem."
American Homeowner Preservation is a socially responsible investment fund manager which empowers accredited investors to purchase equity in pools of distressed mortgages and earn returns of 9-12%*. For further information or inquiries please visit https://ahpinvest.com or call 800-555-1055. *Past performance is not indicative of future results.