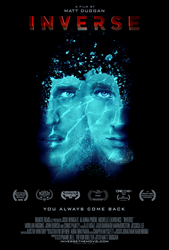 Beautifully shot, well-acted and relentlessly perplexing, Inverse is the dark sci-fi thriller to watch this winter. - Marlo Clingman @ Sci-Fi Bloggers
Century City, Calif. (PRWEB) March 31, 2015
Remote Films, LLC's sci-fi feature film, "Inverse," was recently awarded "Best Sci-Fi Feature" at the Philip K. Dick International Science Fiction Festival. The film went on to win "Best Actor" for its lead, Josh Wingate, at the Miami International Science Fiction Festival. This is the third "Best Sci-Fi" film award for the compelling, intellectual thriller about a man trying to regain his memory only to discover he comes from a parallel universe. Having broken a sacred rule of law, he struggles to repair the damaged lives of those he loves before a dangerous government agency destroys them.
Festival audiences and press have given the film rave reviews. First-time feature film writer/director Matt Duggan explained his process, "Filmmaking is a collaborative art form and a director needs to surround himself with incredible talent to produce a movie. I have an inner circle that made INVERSE the film that it is." Duggan's previous wins include "Best Short Film" for his short "Tag," which he also wrote and directed, as well as "Written By," a short that he wrote and in which he co-stars with writing partner Trevor Boelter. Boelter is also one of the producers of "Inverse."
Remote Films is being courted by a number of distribution companies and is currently determining its options. Producer, Stephanie Bell (whose vast experience includes Paramount Studios and Interscope) surmised, "It is extremely gratifying to have companies recognize that a well-told story, with an extremely talented, although unknown cast, still garners attention in the festival world and among distributors. We hope to have a deal finalized soon."
Please visit the Inverse Film Official Website for more information.