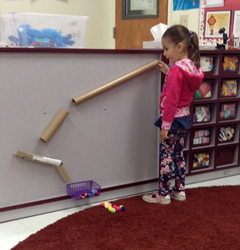 When students considered adding a piece to the machine, they would ponder and discuss it beforehand. It was a joy to watch.
Saratoga, California (PRWEB) March 31, 2015
Stratford School today announced it honors STEAM (Science, Technology, Engineering, Arts, and Mathematics) education by featuring classroom activities and student accomplishments by discipline. Stratford School's advanced academic curriculum provides students with educational excellence, while developing the whole child and preparing students for jobs of the future.
Science
San Jose Middle School student, Aalok P.'s science fair project has been selected for the Synopsis Science Fair. For this project, Aalok engineered a self-balancing bicycle with the goal of meeting three criteria. The bicycle must: 1) be self-balanced at rest, 2) self-correct its balance from an off-balanced position, and 3) stand itself back up from a fallen position. The bicycle was engineered with a weighted pendulum which allowed it be self-balanced at rest. To re-balance the bicycle from an off-balanced position, an NXT Intelligent Brick operated a motor that swung the pendulum according to its center of gravity. (Criteria three needs further engineering.)
Technology
Stratford students continue to advance their Computer Science skills through projects that are aligned with other core subjects. This spring, 1st grade students continue exploring document editing in Microsoft Word; 2nd grade students advance their typing skills by increasing words-per-minute and accuracy; 3rd grade students deliver their history projects on the 13 Colonies via a Power Point presentation; 4th and 5th grade students begin coding in Microsoft Small Basic where they learn to use graphics, syntax, sequencing, recursion, conditionals, and functions to draw images and perform mathematical operations.
Engineering
During STEAM Time, preschool students design and engineer their favorite contraption: an ice-cream maker. Necessary was a three-part function: input, processor, and output. "Most of the time, when students considered adding a piece to the machine, they would ponder and discuss it beforehand. Nothing was random. It was a joy to watch." - Amina Saiyed, Vice Principal, Stratford Fremont Boulevard.
Art
After reading Animal Farm by George Orwell, Stratford Middle School students applied Project Based Learning in Language Arts within their school community. Students were asked to demonstrate their understanding of an allegory and its purpose through a project with 3rd-5th graders. The project was to select a history topic from Stratford's Core Knowledge curriculum, compose an allegory in the form of a children's story, and present it to elementary students. Students enjoyed presenting their projects to the wider school community.
Mathematics
Congratulations to Stratford Middle School students for receiving "Honor Roll" once again at the American Mathematics Competition 8, a competition designed to promote the development and enhancement of problem-solving skills. "Honor Roll" is awarded to schools who receive high team scores. All Stratford Middle School students participate in the AMC 8 every year in November.
About Stratford School
Stratford School is an independent private school founded on the belief that education is a significant influence in the life of a child. Stratford offers an accelerated curriculum – particularly in the areas of STEAM (Science, Technology, Engineering, Arts, and Mathematics) – that incorporates music, physical education, and social skills development. Stratford's goal is to prepare and mentor students for admission to private high schools and colleges or advanced placement in public schools. All students are provided the necessary tools to excel, and are encouraged to actively participate in leadership, community service, and extracurricular activities.