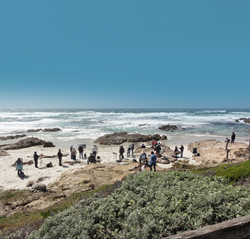 Monterey, CA (PRWEB) April 01, 2015
Streamline Publishing, Inc., and PleinAir magazine announce their 4th Annual Air Convention & Expo, to be held April 13-17, 2015, in Monterey, California. PleinAir is a print and digital magazine for artists and collectors, published by Streamline Publishing.
Each day of the convention promises to deliver something for everyone. From beginners to experienced painters, everyone can participate in program tracks focused on pastel, oil, and water media. For individuals just learning to paint, there will be a pre-convention course to help them understand the basics of painting.
Five days, four stages, and one mind-blowing event allows painters to network, explore their creativity, and have fun doing exactly what they love.
On April 12, 2015, a special pre-convention program lead by award winning landscape, still life, and figurative artist C.W. Mundy will jump start the festivities. Mundy's presentation, a condensed version of his five-day workshop, is available only to registered attendees. PleinAir Publisher B. Eric Rhoads notes, "This is a really big deal, and something entirely new this year."
With about 750 attendees expected to participate in the Plein Air Convention, classes, social events, and outdoor painting events will take place in Monterey and Carmel, California. The locales are picturesque and inspirational, providing every artist with the ability to paint their world, as explained by Rhoads in the blog post "See Monterey Through the World of Art."
For enthusiasts, the Art Showcase and Sale puts convention faculty and attendee work on display, featuring art from professionals and convention instructors to beginning artists. Organizers will curate every work, allowing enthusiasts to marvel at the works created by nature-inspired artists.
Everyone is welcome to come out to attend the art show, and any painter, regardless of skill level, is invited to register for the convention.
For more details and to register, go to http://www.pleinairconvention.com.