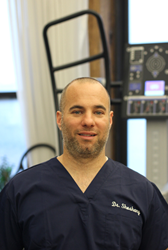 New York, NY (PRWEB) March 31, 2015
NYC based chiropractor Dr. Steven Shoshany, recently acquired yet another soft tissue treatment technique. He is proud to offer an improved and expanded use of percussive massage, at his Manhattan practice. Previously Dr Shoshany was able to offer percussive soft tissue treatment for trigger points located along the spine. While he is also able to offer full body Active Release Technique treatment and assistive taping using products like Kinesio Tape, and Rock Tape, he is now also able to offer percussive therapy for trigger points located at any point in the body.
For years Dr Shoshany has been regarded as one of NYC's top chiropractors, and he has earned this esteem through a consistent pursuit of cutting-edge technologies and effective treatment for long term results. He has also been an advocate for effective chiropractic and other soft tissue treatments in the media, appearing on shows like Good Day NY, and the Dr Oz show.
Dr Shoshany chose the Erchonia Percussor device to treat soft tissue pain caused by muscular adhesion. The device is a hand-held mechanical adjustment tool that uses different density attachments and different frequencies of powerful vibrations that produce a unique "Galvanic Wave" action that provides comfort to the patient, while allowing the administrator very precise control over treatment. The percussive "Galvanic Wave" is controlled via the variable speed feature which allows the administrator to control speeds to reflect the desired output, allowing for precise control over every aspect of the treatment.
Dr Shoshany goes well beyond chiropractic adjustments to help figure out the root of the issues, whether its a chronic contributor such as bad sleeping posture, or an acute injury from work or a sport. This big picture approach also takes in to account diagnostic evaluations from a team of in-house specialists and the best course of treatment is discussed with the patient. Dr Shoshany also believes that in most cases, a "pill free" approach can quickly relieve a patient's pain for good. He locates and treats the cause of pain, starting in the skeletal tissue, and works his way out to the muscle, and then even accounts for lifestyle and recreational factors that may be contributing to pain and injuries. The result is an individualized approach that takes in to account the patient's lifestyle and recovery goals.
Working with a combination of physical therapy, chiropractic, medical massage, and interventional pain management, Dr Shoshany is able to determine what treatments will work for a specific patient, and then re-evaluates the approach as the course of treatment progresses and the patient's needs and goals change. The range of patients and their recovery goals range from being able to get out of bed without lower back pain, and sleeping through the night without neck pain, to being able to compete in Crossfit competitions, and marathons.
Always at the forefront of the latest in healthcare technology, Dr. Shoshany has aimed to set a trend in the chiropractic discipline towards bringing previously inaccessible treatment protocols to every day people. Treatments normally reserved for competitive professional athletes like the Graston technique, Kinesio taping, and even ART (Active Release Techniques) are readily available and used at his Manhattan practice to help people every day. Dr Shoshany has been a practicing chiropractor in NYC for over 15 years and he has helped many people get out of pain without the use of prescription medication, and invasive surgical intervention. To learn more about percussive massage, and for additional details contact Dr Shoshany through his website: drshoshany.com