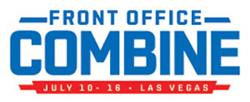 Las Vegas, Nevada (PRWEB) April 01, 2015
For the past 11 years Las Vegas has been a proving ground for the basketball stars of tomorrow. This year, Las Vegas also will be a proving ground for prospective sports employees and executives.
Taking place July 10 through July 16 at the Thomas & Mack Center and Cox Pavilion, home of the Las Vegas Summer League, the inaugural Front Office Combine will provide job-seekers the opportunity to learn from top sports business professionals in a one-of-a-kind, immersive training experience in four key areas of pro sports team entry-level employment: scouting and analytics, media and sponsorship sales, social media and public relations and ticket sales.
Consisting of both classroom and on-the-job training, students of this revolutionary new program will have the unique opportunity to work side by side with Las Vegas Summer League staff while the event is operating, an experience that is not offered anywhere else.
"The Las Vegas Summer League is the perfect place for a young aspiring professional to experience what the business of basketball is all about," said Warren LeGarie, Executive Director of VSL Properties, founders of the Las Vegas Summer League. "So many of the young people that go through our internship program have ended up getting front office jobs in sports - and this is something we are very proud of."
The program is expected to draw from college graduate students and young professionals eager to make a transition to the business of sports.
The Front Office Combine is being organized by the founders of the Las Vegas Summer League, who have placed over 40 young professionals with front office, coaching, agency, and league positions throughout the sports business world.
Those interested in the 2015 Front Office Combine can find out more at http://www.frontofficecombine.com/