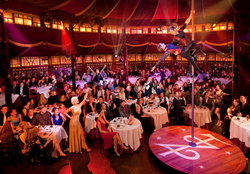 "For a dinner like you've never experienced, go to Teatro ZinZanni. Eat a five-course meal… while enjoying a show that combines theater, cabaret, circus and burlesque." -USA Today
Seattle, WASH. (PRWEB) March 31, 2015
It may not be a proven scientific fact, but more often than not, the people leaving the Teatro ZinZanni spiegeltent in Seattle leave brimming with excitement having seen at least one something completely new. From high-flying aerial and pole dancing tango duets to world-class vocalists that span the pop to opera genres, a Teatro ZinZanni experience is something out of a dream. This June, Teatro ZinZanni will open a new show that plays with a superhero theme and features the return of some of the greatest artists ever to be seen under the magical spiegeltent including drag-comedian genius Kevin Kent, Swedish chanteuse Anki Albertson, the high-flying Collins Brothers, and more; in true ZinZanni form, these performers will be accompanied by a specially curated and seasonal multi-course feast complimented by delicious beverage pairings.
As Seattle continues to see tremendous growth in tourism, Teatro ZinZanni has increased efforts to ensure a visit to the tent is added to travel itineraries that include iconic attractions like the Space Needle and Pike Place Market. "With a shift to more tourism-based marketing strategies last year, we saw a 10% increase in sales for the summer months over the same period last year," Michelle Haines, Director of Sales and Marketing commented. "The Emerald City is packed with people visiting for the first time and we like to think of the tent as a quintessential Seattle experience – it's currently the only show of its kind in the United States, born right here sixteen years ago with a mission to present world class talent in an intimate space while serving locally sourced food from the region. Words cannot describe what our guests will experience, but it truly is a night unlike any other."
"Seattle and Teatro ZinZanni were partners from the very start and our city has benefitted greatly by having one of the country's top destination dinner and cabaret experiences," David Blandford, Director of Communications at Visit Seattle, a information resource center, commented. "It says a lot about Seattle's strong theatrical culture and top-notch dining scene. The confluence of each in one great product is a celebration of what Seattle offers in one great place."
Teatro ZinZanni is an original show, which combines European cirque, cabaret, spectacle, and live music alongside a feast designed by Chef Erik Carlson. The show is presented in a gorgeous, climate-controlled, antique cabaret tent (known as a spiegeltent). Imported from Belgium, the spiegeltent is nicknamed the Moulin Rouge. Built in 1910, it boasts stained glass, hand-carved wooden interior columns, polished crystal and mirrors. Guests are seated restaurant-style in this unique venue, and the action of the show takes place throughout the circular structure. The Moulin Rouge comfortably seats 285 guests, so each visitor has an intimate, nearly front row seat to the incredible action taking place before them. "Teatro ZinZanni is a feast for the eyes and a treat for your belly," Ann Peavey, Chief Concierge at Visit Seattle commented.
Chef Erik Carlson has been designing menus for Teatro ZinZanni for over three years now. "When designing the summer menu I was inspired by the theme of superheroes and supervillians," Carlson described. "In my minds eye I see shapes first before I get to designing the actual items I want to put on the menu so with this theme, I was led to research edible BAM! and POW!'s to start the meal with a great presentation." Regionally, Seattle has a unique food culture and access to incredible local produce, proteins, and even wines that other regions of the country, or even the world, may not have access too, so in addition to this wholly unique theatrical experience, guests get a first-class meal brought to them specifically from surrounding farmers and suppliers. "Just being in the Northwest offers a great opportunity for local foods. We have local, wild caught King Salmon and beautiful all-natural, no antibiotic bone in short ribs from Double R Ranch for this menu. We use local ingredients whenever possible and look to our local meat, seafood, produce purveyors to keep our menu just right."
Teatro ZinZanni evening performances run year-round in Seattle, Washington – they produce three shows per year with rotating cast and themes, family-friendly circus productions in the spring and fall, and the tent has been known to house a handful of unique live events that have featured the likes of NYC cabaret star Joey Arias, Ann Wilson from Heart, and viral sensation Puddles the Clown.
The current production The Hot Spot plays through June 7, 2015, and the new summer show will open Friday, June 12 at Teatro ZinZanni (222 Mercer Street, Seattle, WA 98101). Ticket prices start at $99 and can be purchased online at ZinZanni.com/Seattle, by phone (206) 802-0015, or in-person at the Teatro ZinZanni Box Office (open Tuesday-Sunday, Noon-7:00 p.m.).
# # #