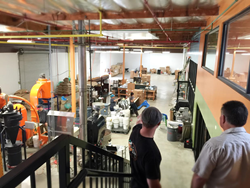 We are very excited to meet the rising demand of our specialty coffee customers with our new State of the Art training facility and roastery. -Mike Perry
Rancho Cucamonga, California (PRWEB) March 31, 2015
Family owned and Southern California based Klatch Coffee will be opening the doors on Thursday, April 2nd to showcase their brand new, state-of-the-art training center and roastery. Their new facility will feature multiple labs for expanded training classes, quality control, and experimentation in all things coffee.
The new roastery triples their production capacity with a new Diedrich coffee roaster along side their original Diedrich roaster used to win Klatch the honor of "Roaster of the Year". While their new roaster features the latest technology Diedrich has to offer, it still allows for their "Peak of Flavor" roasting style. Klatch has used this approach to earn over fifty 90 + point coffees, including the 97 point Camilina Geisha from Panama which was the #1 coffee of 2014.
Klatch will be an SCAA certified lab hosting certified coffee preparation classes as well as the Q Cuppers program. In addition, Klatch will be able to offer even more private and group training for roasters, baristas and the coffee public. Classes are led by the team of Mike Perry (Roaster of the Year), Todd Goldsworthy (US Brewers Cup Champion) and headlined by two-time US Barista Champion, Heather Perry.
The showroom labs will feature the new Nuova Simoneli Black Eagle and one of only 100 La Marzocco EP Strada espresso machines in the U.S., plus the first production Curtis Seraphim brewer in the world. During the open house, Klatch will be offering their award winning coffees, including the famous geisha coffee Todd Goldsworthy used in this year's United States Brewers Cup competition. There will be an exciting coffee and beer fusion from Claremont Craft Ales, a food truck, free samples and a raffle of geisha coffee! The open house will be held from 5 -6 PM with the Inland Empire Thursday Night Throwdown (IE TNT) finale immediately following.
IE TNT is a community event building up the Inland Empire coffee community through latte art competitions and Klatch Coffee is hosting their series finale starting at 6 PM on April 2nd . 64 competitors will face off in Rancho Cucamonga to see whose latte art stands out among the crowd.
About Klatch:
Klatch is an award-winning and renowned specialty coffee company and roaster in Southern California. Since 1993, Klatch has been searching around the world for the finest coffee, sourcing via a Direct Trade model and buying only the top 1% of beans available. Mike Perry, Roastmaster, blends a background in chemical engineering with a love for great coffee to balance science and artistry in achieving the perfect cup. Awards for Klatch include being named 'Coffee Roaster of the Year' by Roast Magazine. In addition, Klatch's WBC espresso blend is the only espresso ever awarded "Best Espresso in the World" at the World Barista Championships. Coffee Review, the world's leading coffee guide, has awarded over 80% of Klatch coffees with a score of 90 points or above. Besides great coffee, Klatch is home to Two- Time United States Barista Champion Heather Perry who finished 2nd in the world and is the current Ultimate Barista as well as 2014 United States Brewers Cup Champion, Todd Goldsworthy.
To learn more about Klatch Coffee and/or purchase Award-Winning Coffee, visit http://www.KlatchRoasting.com. Klatch Fans can find the latest and up-to-date news and discounts on Facebook @KlatchCoffeeinc and Twitter @KlatchRoasting.