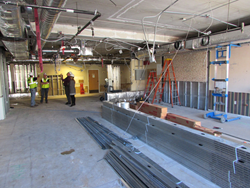 The physical layout of the residence, the programming and the staff all will help residents stay as independent as possible, but if they need assistance we'll be right there to help.
SURPRISE, ARIZ. (PRWEB) March 31, 2015
Grandview Terrace Health and Rehabilitation by Sun Health is transforming an existing skilled nursing space into an upscale 20-suite residence for people who need assistance in daily living.
The second-floor of the two-story residence will contain one two-bedroom, 13 one-bedroom and six studio suites, each with a kitchenette, full bath and walk-in closet. The one and two-bedroom suites also feature a living room. All accommodations are private. Upstairs, residents also will have use of a lounge with fireplace, a business center, a community laundry room and a fitness area.
The ground floor will feature an artfully designed entrance, an internet cafe, a gift shop, movie theater, chapel/library, spa and salon area, a conference room as well as a restaurant-style dining room and large multipurpose room, ideal for educational presentations and life enrichment activities. Plans also include a health clinic for residents staffed by a physician and nurse practitioner.
"The residents will not only receive the best in care and support, they'll also have many opportunities to socialize, take part in community activities and improve or maintain their independence," said Joe LaRue, executive vice president of Sun Health and head of the organization's real estate development team.
According to a recent Merrill Lynch and Age Wave retirement study, 74 percent of people age 85 and older struggle with at least some activities of daily living, such as housework, shopping and other routine tasks. The study's authors suggest these findings illustrate a need for more supportive services — including living-with-assistance services — to meet the needs of this growing population segment.
The project is the last phase of a multimillion dollar top-to-bottom renovation of the Grandview Terrace Health and Rehabilitation campus — previously known as Grandview Care Center. Renovations included remodeling a skilled nursing unit, a sub-acute rehabilitation unit and an indoor-therapy pool in the rehabilitation department.
A new 16-suite memory support residence, designed and built specifically for residents with Alzheimer's and related dementias, opened in December and has already received awards for its innovative design and programming. The living-with-assistance residence will incorporate the same home-like, non-institutional qualities found across the entire Grandview campus.
Grandview Terrace Executive Director Bhakti Gosalia is excited for the new development, expected to open this summer. "The physical layout of the residence, the programming and the staff all will help residents stay as independent as possible, but if they need assistance we'll be right there to help."
The design-build team for the assistance-with-living project consists of The Weitz Company (contractor); Orcutt-Winslow Partnership (architect); HilgartWilson (civil engineering); and Thoma-Holec Design (interior design
About Sun Health and Sun Health Senior Living
A long-standing champion for healthy living, nonprofit Sun Health is a community-based health care organization providing "pathways to population health" through philanthropy, senior living, community health programs and superior health care. Sun Health Senior Living is the largest nonprofit Life Care provider in Arizona. It owns and operates Grandview Terrace (Sun City West); La Loma Village (Litchfield Park) and The Colonnade (Sun City Grand/Surprise). Learn more at http://www.SunHealth.org and http://www.sunhealthseniorliving.org.
###