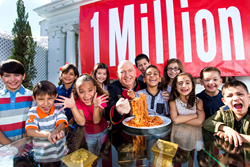 Anaheim, CA (PRWEB) March 31, 2015
Oscar winner Mira Sorvino and OC Housewife Vicki Gunvalson joined restaurateur/humanitarian Bruno Serato to serve the 1,000,000th meal to one of 400 "motel kids," so named as their working parents cannot afford their own apartment so they are forced to live in cheap motels infested with prostitution, drug use and other unsavory activities. The children were served pasta in marinara sauce, vegetables, slow-roasted braised beef and profiteroles for dessert. The milestone event took place at Serato's Anaheim White House restaurant.
A decade ago, Serato founded the nonprofit Caterina's Club, to make sure the region's most vulnerable population – its children -- receive a hot meal before they are tucked into bed. Each night for the past decade, pasta prepared at the Anaheim White House is served to the children. Currently he feeds 5,000 each week at 19 locations in 7 OC cities. In addition to the nightly meals, Serato places some of these families into homes of their own.
Serato's extreme generosity (at one point he mortgaged his own home in order to keep the program afloat) has earned him worldwide status. He was named one of CNN's 10 Heroes of the Year and has been featured in magazines (People, Elle, Vogue), television ("CBS Evening News," "NBC Nightly News," "EXTRA,") and newspapers (New York Times, Los Angeles Times, OC Register) countless times. He was knighted by the Italian government, honored on the steps of the U.S. Capital with a humanitarian award, recognized by the Good News Foundation and received any number of proclamations, Man of the Year awards and other forms of recognition.
For more information visit caterinasclub.org.
*****