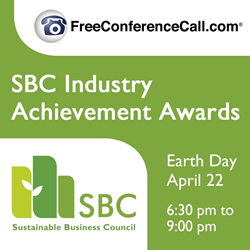 FreeConferenceCall.com is proud to work with the SBC to recognize The Honest Company for its commitment to sustainability and for inspiring other business professionals across Southern California.--FreeConferenceCall.com CEO David Erickson
Los Angeles, Calif. (PRWEB) March 31, 2015
The Sustainable Business Council (SBC) announces today that The Honest Company will be honored as "Pioneer in Sustainability" at the Fourth Annual SBC Industry Achievement Awards sponsored by FreeConferenceCall.com. The Honest Company's founders, Jessica Alba, Brian Lee, Christopher Gavigan, and Sean Kane, will be presented with the Pioneer in Sustainability Award for their commitment to sustainability. Also being honored with Lifetime Achievement Awards are Participant Media, represented by Christopher Gebhardt, and Nancy Mancilla of ISOS Group.
The event is scheduled for Wednesday, April 22, 2015 from 6:30 – 9:00 pm at Lexus Santa Monica, 1501 Santa Monica Blvd., Santa Monica, Calif.
SBC Awards title sponsor FreeConferenceCall.com CEO David Erickson will welcome the event's honorees, including The Honest Company, which has been vocal about its mission to empower people to live a healthy and happy life through its commitment to creating products that are effective, safe, delightful, accessible, and responsible.
"FreeConferenceCall.com is proud to work with the Sustainable Business Council of Los Angeles to recognize The Honest Company for its commitment to sustainability and for inspiring other business professionals across Southern California to reduce the ecological impact within their own organizations," said FreeConferenceCall.com CEO David Erickson, whose conferencing and collaboration company helps reduce corporate travel and adds a global telepresence, which drastically reduces CO2 emissions.
The SBC, a non-profit organization which provides a professional networking and education forum for Southern California businesses and individuals working with sustainable products, services, and processes, hosts the annual awards event to recognize industry environmental leaders and businesses from the region.
"We are delighted to have FreeConferenceCall.com as the title sponsor for our annual SBC awards event," said Steve Glenn, Chair and co-founder of the Sustainable Business Council. "FreeConferenceCall.com is a great role model for businesses to emulate as they adopt strategies to reduce their environmental impact."
The event will also feature a Restaurant Showcase with tastings from top vegan, vegetarian, and sustainable chefs and restaurants. The following companies and individuals will be honored at the Fourth Annual SBC Industry Achievement Awards:
SBC's Pioneer in Sustainability Recipients
The Honest Company Founders
Jessica Alba
Founder & Chief Creative Officer
The Honest Company
Brian Lee
Co-Founder & Chief Executive Officer
The Honest Company
Christopher Gavigan
Co-Founder & Chief Product Officer
The Honest Company
Sean Kane
Co-Founder & President
The Honest Company
SBC's Lifetime Achievement Award for a Business
Participant Media
Christopher Gebhardt
EVP, Participant Media & General Manager, Tag
Accepting Award at Event
SBC's Lifetime Achievement in Sustainability Award for an Individual
Nancy Mancilla, CEO & Co-Founder, ISOS Group LLC
The awards reception and ceremony salutes and spotlights Southern California companies working to support the mission of SBC: to improve businesses' operating efficiencies, profit margins, and staff productivity, while lowering the ecological impact of their products and services. The awards also honor individuals and projects that have made outstanding impacts in the sustainability industry.
The pioneer and lifetime award recipients, the celebration reception and the ceremony details are showcased on SBC's website.
Event Sponsors include:
The following are sponsors of the Fourth Annual SBC Industry Achievement Awards:
Title Sponsor: FreeConferenceCall.com
Presenting Sponsor: Earth Friendly Products, LAcarGuy, Lexus Santa Monica
Sponsors: Marcum LLP, Beyond Meat, BrandStorm, Inc., Arpin Group, Southern California Edison, Sustainable Law Group, LivingHomes, Summa Marketing Communications, Growing Roots, AoSA, Generate Possibility, Gardein, Green Business BASE CAMP, Green Business Networking, Agents 99 MKtg, SustainableWorks, GuSTO Career Coach App, One Drop Interactive, LA Green Drinks, Community Assets Consulting, and Conscious Capitalism LA Chapter.
Event Information
The SBC Industry Achievement Awards details are available by clicking here.
Media Attendance and Interview Requests
Event attendance is also open to accredited print, online, and broadcast journalists who register with SBC in advance. To register, media representatives should contact Executive Director Molly Lavik, (310) 488-4401, molly.lavik(at)sustainablebc(dot)org.
About the Sustainable Business Council
The Sustainable Business Council (SBC) is a non-profit organization that provides professional networking, mentoring, and educational forums to sustainable business professionals in Southern California. The organization's goal is to help members improve their operating efficiencies, profit margins, and staff productivity as they reduce the ecological impact of their products and services.
For more information, please visit http://www.sustainablebc.org.
About FreeConferenceCall.com
FreeConferenceCall.com is the largest privately-owned conferencing and collaboration company in the world, boasting more than 800,000 business customers, worldwide, including users from nearly all Fortune 500 companies. Service offerings in more than 55 countries with unlimited use include: high quality free HD audio conferencing, web conferencing and screen sharing, audio and visual recordings, customized greetings, security features, desktop scheduling and mobile applications - all supported by 24/7 customer support. Through FreeConferenceCall.com For Business, mid-market and enterprise customers can now take advantage of all of FreeConferenceCall.com conferencing and collaboration services in addition to an enterprise account management team, enterprise level billing, customized user analytic reports, employee rollout and training services, and white-label services.
FreeConferenceCall.com was founded by David Erickson in 2001 and is based in Long Beach, California.
For more information, please visit http://www.freeconferencecall.com.