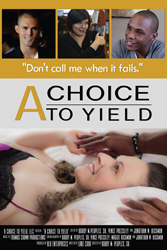 A date night movie!
Atlanta, GA (PRWEB) April 03, 2015
The romantic comedy, "A Choice to Yield," debuts on Amazon Instant Video and On Demand, as well as Vimeo On Demand, this April 2015.
Troy Huff, a Christian Comedian, gives a scene-by-scene account of the movie A Choice to Yield. The movie tells a story of a woman's transition to follow her heart in spite of her best friend's advice, "Find someone who resembles your father." When Troy, the character Henry, speaks, he's sharing comments that viewers would make when addressing social discords or idioms. His quick, clean strikes add humor. Troy has performed with Ricky Smiley, Bruce Bruce, Chris Tucker, and Lil JJ.
A Choice to Yield is based on the novel of the same title. Fans may visit http://www.achoicetoyield.com to view the movie trailer or http://www.facebook.com/achoicetoyieldthemovie to keep up with movie announcements.
RLO Enterprises Executively produced "A Choice to Yield." Story by Laurence "Lonz" Cook, screenplay by Laurence "Lonz" Cook & Rhonda Wilson Oshetoye and directed by Bobby Peoples Sr. and Jonathan Hickman.
###