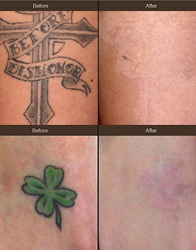 Beverly Hills, CA (PRWEB) March 31, 2015
Plastic surgeon Dr. Dennis Dass says a more effective and faster laser treatment to erase unwanted tattoos is now available to his patients, including those whose tattoos contain red, orange and yellow ink. "Until now, these colors have been the most difficult to eradicate, but thanks to a new "dual wavelength" PicoSure laser upgrade we can erase all ink colors. PicoSure delivers ultra-short bursts of laser energy that literally shatters the ink used in tattoos." Dr. Dass is the first in the Los Angeles area to have PicoSure with dual wavelength.
"While we can't go back in time, tattoos that no longer fit a person's tastes or lifestyle can be quickly erased with PicoSure," says Dr. Dass. "Other tattoo removal treatments require as many as 20 sessions or more to diminish a tattoo's appearance. However, in most cases PicoSure can erase tattoos in just six treatment sessions, no matter which color inks were used. This is a major advantage that will finally allow anyone to start fresh without leaving traces of an unwanted tattoo. PicoSure dual wavelength with Boost can be used for especially resistant tattoos."
"Before PicoSure, Q-Switched lasers were the 'gold standard' for tattoo removal," says Dr. Dass. "These conventional laser treatments heat and break apart the ink particles using thermal energy. PicoSure uses advanced technology in which ultra-short pulses of energy hit the ink particles with great pressure, shattering the ink into tiny particles so small that they are easily absorbed and eliminated by the body." 
"The number of treatments requires varies for each tattoo, depending on the ink colors, composition, density, depth of ink, and skin type," says Dr. Dass. "The PicoSure laser is so effective that 80% of tattoos can be removed with 6 treatments, contrasted with up to 20 or more treatments required by traditional lasers."
"Sometimes a great-looking tattoo turns into a regret," say Dr. Dass. "Whether for personal reasons or when seeking employment, an unwanted or inappropriate tattoo can be a real drag on moving forward, as shown in this study from the University of Tampa." http://www.bizjournals.com/tampabay/news/2015/03/18/ut-study-even-college-kids-think-visible-tattoos.html
For more information or to schedule a consultation on how to leave an unwanted tattoo behind call the office of Dr. Dennis Dass at (855) 496-4646  and visit http://www.DassMD.com. See Dr. Dass discuss tattoo removal in this video: https://youtu.be/Ci5jv-b4qlg
Dennis Dass, MD is a board certified plastic surgeon who specializes in the Brazilian Butt Lift. Dr. Dass is certified by the American Board of Plastic Surgery. He is also an active member of the American Society of Plastic Surgeons (ASPS).
#####