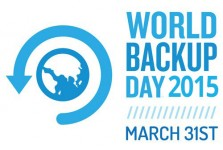 Agoura Hills, California (PRWEB) March 31, 2015
March 31st is international World Backup Day. NovaStor®, an international provider of award-winning backup solutions, celebrates this day with a series of informative blog articles and documents for IT administrators intended on simplifying the daily task of backup and restore.
NovaStor's backup blog looks at backup from the perspective of a business owner, looks at the latest trends in data protection, and provides statistics that are helpful in developing a backup plan. NovaStor's World Backup Day articles are purpose-built to create awareness among business owners and administrators alike with the goal of elevating data backup to a business priority rather than an afterthought.
Article 1: Are you prepared for World Backup Day discusses backup in its various forms, and why it must be taken seriously by everyone, especially small businesses. It mentions the signs that can point to data loss, and where to get started with a solution.
Article 2: Infographic provides valuable statistics on how data loss can affect a business. To prevent data loss in the long term, the infographic shows how to create a secure backup using the 1-2-3 rule, explains online backup works, and offers some fun facts on backup.
Article 3: Windows Server 2003 End of Life attempts to prepare businesses for the upcoming end of support for Windows Server 2003 from Microsoft. A whitepaper is available for download that offers a variety of recommendations for risk mitigation and migration considerations.
Article 4: Backup Alarm Reminder speaks to administrators of IT environments of all sizes that have an existing backup solution in place. This article asks a number of questions designed to engage the reader and provoke critical thought about backup to improve the existing data protection scenario.
IT resellers with experience in storage and data protection are invited to learn more about NovaStor's ValueCREATE! partner program which offers world-class reseller support based in the USA. Extensive trainings and certifications enable partners to implement NovaStor's award-winning solution successfully and profitably.
About NovaStor
NovaStor® is an international provider of powerful, affordable, all inclusive data-protection solutions for physical and virtual environments. NovaStor provides backup & restore solutions to small and medium business (SMB) as well as heterogeneous environments to protect data on both sides of the cloud. NovaStor's SMB solution NovaBACKUP® is rated #1 for businesses requiring local and remote protection of Windows Servers, VMware, Hyper-V and NAS environments with advanced monitoring capability, detailed reporting, and administration from a Central Management Console. NovaStor's network backup solution NovaBACKUP DataCenter brings F500 references, scalability, reliability and speed to heterogeneous environments; a single pane of glass designed to reduce administrative effort and lower TCO. NovaStor' Setup Assistance is an industry first where experts relieve clients from the complexity of installation and support. NovaStor is management-owned with over 1,000 partners, and millions of seats distributed. With global headquarters located in Zug, Switzerland and offices in Germany (Hamburg) and the USA (Agoura Hills), NovaStor is also represented in numerous other countries through partnerships.