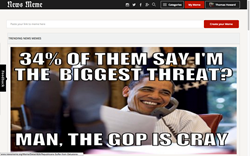 News Meme makes the internet more fun than a listy cat article
(PRWEB) March 31, 2015
Callitics is mere weeks away from releasing the new version of its popular political app, but until then, they continue expanding their code base with the new release, News Meme. The new mobile website allows anyone to turn a URL into a meme that backlinks to it.
"We think this is the first sale doctrine for the 21st century," says Tom Howard, founder of Callitics. The memes form links to their original source. Much like the first sale doctrine allowed for copyright usage after a unique work had been originally sold, repackaging URLs from published websites adds new value to the original source.
"The first sale doctrine did not usually apply to electronic copies because they can make a million copies of them. But News Meme delivers one unique back link. It's the same thing, different day," says Howard.
News Meme has really updated its mobile presence. "Mobile is about 65% of our traffic already," says Howard. As a corporate litigator that develops software instead of playing golf, Howard keeps Callitics on a short leash. "But it's flexible; software needs to develop toward what is working."