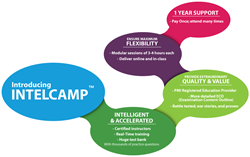 In our fast paced society, the demand on professional's time is huge. Our Intelicamps are designed for busy people where flexibility is paramount. In that regard, our Intelicamps are unequal in the training world
Cedar Grove, NJ (PRWEB) March 31, 2015
PMO Advisory (http://www.pmoadvisory.com), an innovative management consulting and training firm that helps organizations bridge the gap between ideas and execution and enhance workforce development through project management training, is formally launching Intelicamp, a highly accelerated, intelligent, and flexible bootcamp for Portfolio Management (PfMP)®, Program Management (PgMP)®, and Project Management (PMP and CAPM)® certifications.
Intelicamps are based on the premise that project professionals are some of the busiest people in the world. They already possess a huge amount of knowledge and experience, and it would be torturous for them to sit through three, four, or five days of training. Plus, with their busy schedule, it is difficult to participate in that entire stretch of time. Intelicamp addresses all these problems plus some. The vital features of Intelicamps are:
1. Maximum Flexibility: Course delivered in real time online and in-class; Modular sessions of 3-4 hours each making these easier to schedule; pay once and return anytime within twelve months.
2. Intelligent & Accelerated: Led by certified and experienced instructors, access to huge test bank of thousands of questions for participants to practice.
3. Extraordinary Value: Up to twelve months of attendance; more detailed than ECO (examination content outline); battle-tested with war stories from our past participants.
"In our fast paced society, the demand on professional's time is huge. Our Intelicamps are designed for busy people where flexibility is paramount. In that regard, our Intelicamps are unequal in the training world", stated Te Wu, founder and CEO of PMO Advisory. "We have participants coming back, not once or twice, but three times because their demanding work detoured their certification preparation. By offering one year of training for one price, we are there to support aspiring project professionals through the entire period in which they qualify to take the exam."
Intelicamps are already offered for Project Management Institute's Portfolio Management certification (PfMP) and will soon be available for other credentials including Program Management (PgMP), Project Management (PMP), Certified Associate in Project Management (CAPM), and Project Risk Management (PMI-RMP)®.
About PMO Advisory LLC
PMO Advisory is a socially minded management advisory and training firm with expertise in business and IT execution, serving as a resource to help enable ideas for organizations. PMO Advisory helps transform business ideas, plans, objectives and vision into reality using a proven, customizable consulting approach. The firm's advisory team is expert in program and project leadership, process improvement, business transformation, and data analysis and visualization. As a training company, the firm is an approved member of PMI's Global R.E.P. offering Intelicamps (intelligent and accelerated bootcamps) for Portfolio Management with program and project management coming soon.
For more information, visit PMO Advisory on the web at http://www.pmoadvisory.com. For more information on our Intelicamp products, visit us there at http://www.pmoadvisory.com/intelicamp.
About Project Management Institute (PMI)
PMI is the world's largest project management member association, representing more than 600,000 practitioners in more than 185 countries. As a global thought leader and knowledge resource, PMI advances the profession through its global standards and credentials, collaborative chapters and virtual communities and academic research. PfMP, PgMP, PMP, CAPM, and PMI-RMP are registered marks of Project Management Institute, Inc.