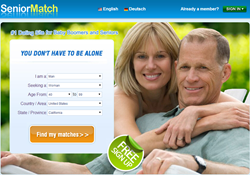 (PRWEB) April 02, 2015
Seniors are using their mobile devices for dating the same way the younger generation is, according to SeniorMatch.com.
Today's senior citizen is sexy, full of life, and not ready for the rocking chair. They know how to stay physically healthy through exercise, and they know to stay mentally healthy they need interaction with others. Their mobile phone is just the right tool to help them live life to the fullest.
SeniorMatch.com was founded in 2001 and they introduced mobile dating in 2011. In just the last three months, 23% of their new sign ups came from mobile users. Many people had resigned themselves to believing they would never feel "that way" again. The mobile phone and SeniorMatch.com have changed all that. That wonderful feeling of chemistry with another person can be just a text away. The Baby-Boomers are rewriting what growing older is all about. Once again they are changing the course of history. They want a life of romance and excitement that inspires love songs to be sung and poetry to be written. They are not content to let the world believe those feelings are just for the young. Mobile dating opens up all sorts of doors for the on-the-go senior adult.
According to the statistics from SeniorMatch.com, mobile users are more active than the Desktop based users. This is a real clue for those looking for a person to be compatible with. Mobile users tend to be on the go and would rather be dancing than sitting at home watching a movie.
The average age of the members on SeniorMatch.com is 59. This is an interesting age for the baby-boomer generation, they don't tend to look old or act old. At this age women become more aggressive and grab life with a renewed gusto. Men finally feel freer to express their tender side. Both experience a new sense of adventure and freedom to try new things. Many of the Boomers begin to reflect about their life and their careers. They know what kind of companion they want to spend their time with. In their contemplations, they realize time is a valuable commodity not to be wasted. Many covet intimacy with a special someone.
SeniorMatch.com had about an even mix of men to women. The ratio on their site is 48% male and 51% female. The ratio demonstrates that both sexes are seeking companionship, and what a better way to start communications than on their mobile devices.
SeniorMatch.com is most popular in the following cities:
1. New York
2. Houston
3. Los Angeles
4. Chicago
5. Las Vegas
If your city is not in the top five, pull out your mobile device and connect with SeniorMatch APP today. Spring is a lovely time of the year for romance.