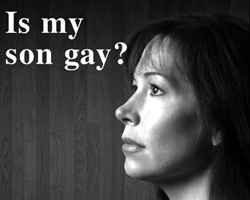 Let them come out to you when they are ready.
New York, New York (PRWEB) March 31, 2015
The parenting role is complex and complicated, bringing out both the best and the worst aspects of people who are raising a child. When a parent suspects that their child is gay, lesbian or bi-sexual, disillusionment, avoidance and a type of emotional blindness will often encapsulate their parental world. The lack of support for the child creates havoc within the home. The child will often act-out, become numb and silent or depressed and anxious. Nathan states "Don't go blind to what you see or experience with your child. Watch for cues from your child. If they seem confused about their sexual identity it is important to get informed and be available to them."
Here are 10 do's and don'ts that can help to navigate through suspicions of a child who may be lesbian, gay or bisexual.
5 Don'ts when suspecting that a child is gay, lesbian or bisexual:
1. Don't harp on the child to talk or ask others to pry into the child's psyche. Nathan states "Let them come out to you when they are ready."
2. Don't tell everyone else what is suspected about the child or defend their behavior by saying that they are going through a phase.
3. Don't take child to conversion therapy or to the local clergy in an effort to "change" the child.
4. Don't shame the child and ask them to keep it a secret from family and friends. "No one can beat or humiliate their sexual preferences out of them. If you can't hold your tongue or your hands: get help for yourself. This is not your child's problem, it is yours."
5. Don't feel like a failure as a parent: The child is not choosing their sexual identity; it is who they are.
5 Do's when suspecting that a child is gay, lesbian or bisexual:
1. Do support the child by helping them to find resources they feel are appropriate. There are several national and local social organizations, leadership programs and support groups for the child, including:
http://www.glbtnearme.org/
http://www.glbtnationalhelpcenter.org/
http://www.gayalliance.org/programs/youth.html
2. Do create a safe space to talk. In most cases, it can be difficult for the child to reveal to the parents their sexual identity. Give them the opportunity to talk about anything, including their sexuality.
3. Seek out the support needed. Seek out individual counseling or support groups. One group that is helpful to parents is http://belongto.org/. Nathan offers the following advice; "It is normal to grieve who you thought your child would be. The desire to have a child who is similar to you, especially wanting their sexual identity to fit into what you consider to be your norm, is often agonizing. You will grieve your expectations, yet on the way you might meet a person in your child who will enlighten you. You cannot control your child, yet you can educate yourself, calm yourself and be the best parent you can be."
4. Let the child know that the love for them is unconditional regardless of their sexual preference.
5. Do allow the child to "come out" to whomever they choose. Keep their confidentiality. This is their story so respect their timetable for revealing themselves. They will tell others when, and if, they want.
The parental role is often difficult yet brings with it great rewards. No one is trained how to be a good enough parent; they rely on their experience and often imitate the behavior of others as a way to navigate through the unknown territory of raising kids. Instead of going blind around what you don't want to see or acknowledge, take off the blinders, and create a safe environment for disclosure, honesty and the parent-child relationship.
About Edy Nathan:
Edy Nathan is a licensed psychotherapist with over 20 years of experience specializing in grief. For two seasons she was the therapist on the A&E TV Show, "Psychic Kids". She holds Masters from both New York University and Fordham University. She has post-graduate training from the Ackerman Institute for Family Therapy, The Gestalt Center and the Jungian Institute. She is a certified EMDR practitioner, regression therapist, certified hypnotherapist, relationship and grief expert. To find out more, visit EdyNathan.com.
For a complimentary meditation and more information about other topics related to grief, loss and trauma, please visit here.