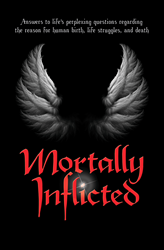 In his book, (Chris) Thomas provides answers to some of life's most perplexing questions about life struggles, the reasons for human birth and death.
INDIANAPOLIS (PRWEB) March 31, 2015
To fully understand the Bible and its teachings, readers need to study scripture in its original languages of Hebrew and Greek. That's the belief of Chris Thomas, author of a new book released by Dog Ear Publishing that explores aspects of the Old and New Testaments in detail. In his book, Thomas provides answers to some of life's most perplexing questions about life struggles, the reason for human birth and death.
"Mortally Inflicted" begins with the premise that the original language of the Old Testament (Hebrew) and New Testament (Greek) play key roles in how scripture should be interpreted instead of the usual translations into English and biases of doctrine, opinion, and tradition that hamper the original writing. Simply put, although English translators did their best, many Hebrew words could not be translated directly so English word substitutes were used, some of which altered the meaning. The book uses bold text to draw attention to selected important words in scripture as well as their proper definition.
For example, in the Book of Genesis, the word "day" is used to refer to a 24-hour period of time. In Hebrew, however, the English word "day" in the text refers to the root word "Yom," which means an infinite period of time, forever, perpetually; an unlimited timespan. So, Thomas writes, the creation story does not refer to a literal day for each stage of the process. Instead, it refers to the alpha and omega cycles of expansion, contraction and the complete creation process. This misinterpretation of words led the religious community to assume the Earth was created in 6,000 years.
The book consists of even more astonishing examples of misinterpretation Thomas explores, including the existence of other people on Earth besides Adam and Eve, why the Lord God decided to create earthly bodies for beings that previously existed as celestial angels, and the awesome power and effects of our perceived beliefs. "Mortally Inflicted" details discoveries that challenge long-held beliefs while providing a new way to think about the Bible and those who believe its sacred words.
Author Chris Thomas earned a bachelor's degree in multidisciplinary studies from Liberty University after initially attending Dallas Baptist University.
----------
For additional information, please visit http://www.mortallyinflicted.com
Mortally Inflicted
Chris Thomas
Dog Ear Publishing
ISBN: 978-1-4575-3178-1
160 pages
$24.95 US
Available at Ingram, Amazon.com, Barnes & Noble and fine bookstores everywhere.
About Dog Ear Publishing, LLC
Dog Ear Publishing offers completely customized self-publishing services for independent authors. We provide cost-effective, fast, and highly profitable services to publish and distribute independently published books. Our book publishing and distribution services reach worldwide. Dog Ear authors retain all rights and complete creative control throughout the entire self-publishing process. Self-publishing services are available globally at dogearpublishing.net and from our offices in Indianapolis.
Dog Ear Publishing – self-publishing that actually makes sense.