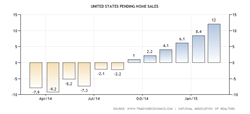 The Midwest experienced a surge of 11.6% which is now 13.8% above a year ago
Chicago, IL (PRWEB) April 01, 2015
Lenders like Peoples Home Equity were pleased to see that pending home sales rose 3.1% in February.
According to the latest pending home sales report, released by the National Association of Realtors (NAR) on March 30th, the pending home sales index increased to 106.9, the highest level since June 2013. The index has now "increased year-over-year for six consecutive months and is above 100 – considered an average level of activity – for the 10th consecutive month," said the NAR.
Regionally, the change in the pending home sales index was interesting. The Northeast experienced a pending home sales fall of 2.3%, but remained 4.1% higher than last year. The Midwest experienced a surge of 11.6% which is now 13.8% above a year ago. The south experienced a 1.4% declined but remained 10.8% higher than a year ago. The West also climbed 6.6% at 18.3% higher than a year ago. Thus, there was a mixed level of buying across the country.
Lawrence Yun, chief economist at the NAR said "Pending sales showed solid gains last month, driven by a steadily-improving labor market, mortgage rates hovering around 4 percent and the likelihood of more renters looking to hedge against increasing rents." Peoples Home Equity could not agree more, the lender routinely states that America's youth are driven to purchase a home as soon as possible since the total cost of a mortgage + HOA fees + property taxes are quite often less than paying for rent!
One negative note that Lawrence Yun mentioned regarding was first-time home buyers was that there is a "depressed level of homes available for sale." Indeed inventories are low, furthermore prices are climbing due to pent up demand. Thus, once first-time homebuyers do finally get approved for a home loan, their choices are slim at a higher price going into the summer. For this reason, Peoples Home Equity strongly encourages all prospective home buyers to jump in from the sidelines and at least get approved for a mortgage now.
If in need of a mortgage, contact a Peoples Home Equity loan officer today at: 262-563-4026