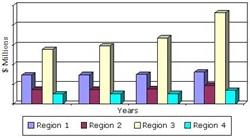 The global market for air pollution control equipment is expected to reach $78.4 billion by 2019
Wellesley, Mass. (PRWEB) March 31, 2015
BCC Research (http://www.bccresearch.com) reveals in its new report on air pollution control equipment, with the industrial sector significantly contributing to the negative changes in air quality, air pollution has grown to be a pressing global issue. The declaration of 2013 as the "Year of Air" by the European Union (E.U.) is a testament to the magnitude and the effects of air pollution.
The global market for air pollution control equipment was valued at approximately $56.6 billion in 2013 and $60.9 billion in 2014. This is expected to reach $78.4 billion in 2019, with a compound annual growth rate (CAGR) of 5.2% from 2014 to 2019. Asia-Pacific was the largest market at roughly $29.5 billion, equating to half (52.1%) of the global revenues for air pollution control equipment in 2013. Rapid industrialization coupled with increasing coal-fired power plants to fulfill energy requirements are the reasons for this region's significant growth. The market is predicted to reach $46.2 billion in 2019, with a CAGR of 6.7% from 2014 to 2019.
Air pollutants such as carbon dioxide and the other greenhouse gases believed to contribute to global warming are primarily products of the combustion of fossil fuels. Gases such as sulfur dioxide also contribute to the problems of smog and acid rain. Global warming, an after-effect of increasing air pollution, is one of the major issues attracting considerable attention lately by governments and authorities globally. This is leading to heightened international dialogue, policy changes and technological innovations.
"The governments of many nations have responded by raising air quality standards for industrial producers by requiring new and cleaner production technologies," says BCC Research analyst Swathy Rajasekaran. "Industries have responded by developing new technologies to reduce air pollution emissions from their production processes and by developing more environmentally friendly consumer products."
Air Pollution Control Equipment: Technologies and Global Markets evaluates the global air pollution control equipment markets, focusing on the various technologies and assessing their potential over a five-year period from 2014 to 2019.
Editors and reporters who wish to speak with the analyst should contact Steven Cumming at steven(dot)cumming(at)bccresearch(dot)com.
About BCC Research
BCC Research publishes market research reports that make organizations worldwide more profitable with intelligence that drives smart business decisions. These reports cover today's major industrial and technology sectors, including emerging markets. For more than 40 years we've helped customers identify new market opportunities with accurate and reliable data and insight, including market sizing, forecasting, industry overviews, and identification of significant trends and key market participants. We partner with analysts who are experts in specific areas of industry and technology, providing unbiased measurements and assessments of global markets. Recently selected as the world's greatest market research company, BCC Research is a unit of Eli Global, LLC. Visit our website at http://www.bccresearch.com. Contact us: (+1) 781-489-7301 (U.S. Eastern Time), or email information(at)bccresearch(dot)com.