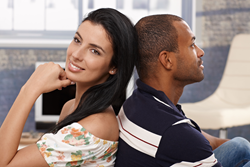 Love is color blind
Toronto, Ontario (PRWEB) April 14, 2015
Blackwhitemeet.com has recently released some useful tips for those who are looking for interracial dating. "By doing this we hope to give people more insight on how to balance an interracial relationship." Said Elena, chief executive officer of Blackwhitemeet.com.
Below are these tips which can also be found at Blackwhitemeet.com.
Know your preference: It is important to know the kind of person you are looking for in a relationship. People have different tastes and knowing yours will make the search much easier. An easy way is to list the things your prospective partner should have.
Know your qualities: List what you can be to someone else. Know the qualities that you can provide to the other person who is also searching. Note the areas you need to improve such as finances and tidiness. Imagine how another person would see you and work on being a perfect match. This will make black and white dating much easier.
Take risks. Online dating involves forming relationships with new people. Some people do it easily while others find it challenging. If you are reserved, you need to push yourself and gain courage to form new relationships. This does not mean changing who you are, but means working extra hard to establish relationships, especially interracial relationships.
Reach your potential. No one is perfect. People have their strengths and weaknesses. To ensure that you give out the best of you, you should maximize your strengths and reduce the weaknesses. By improving the strengths and reducing shortcomings, you are working towards improving your potential and can help to increase your worth and easily find a potential partner.
Have fun. Dating can be strenuous especially when white men meet black women. There can be stares or judgement. To ensure that the relationship lasts, it is important to know the other person better and not to take things too fast. While dating, it's important to have some fun.
About blackwhitemeet.com
Blackwhitemeet.com is a dating site for singles looking for interracial relationships. The site is an online dating site where white men meet black women. It is a site where love is considered colorblind. It helps singles from different races to meet and make new friends, go on dates and find lasting interracial relationships. It is a leading site for pairing singles that are looking to find a partner from a different race, either locally or abroad. It has two membership plans, free membership and Gold member and plenty of profiles to choose from. The site is based in Ontario Canada.
For more information visit http://www.blackwhitemeet.com/