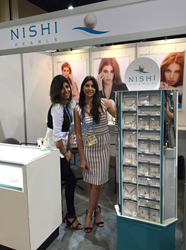 One of our goals for this year's show was to explore business opportunities in border stores and cruise ships since our product and packaging is perfectly tailored for their end-consumer
Montreal, Quebec (PRWEB) March 31, 2015
The Duty Free Show of the Americas is a trade show held annually in Florida founded by the International Association of Airport Duty Free Stores (IAADFS). This annual event provides an opportunity for members of the association to meet with international buyers from duty free stores to enable business dealings between these two vital segments of the travel retail industry.
The variety of merchandise on display includes fragrances, confectionary, spirits, makeup and leather goods among many others. Every year, the show exhibits goods from up and coming brands as well as seasoned, established brands alike. This year's show featured over 200 exhibiting companies and hundreds of prospective buyers from around the globe.
According to a report from Generation Research, Sweden, the global travel retail industry struck an all-time high of US$60 billion in sales in 2013. Among the top 10 product categories that have generated the highest sales in duty free and travel retail shopping that year, jewelry ranked in 8th, closing in US$2.7 billion in annual sales.
As The Americas Duty Free & Travel Retailing magazine reports, the International Air Transport Association (IATA) has released figures that indicate an increase of 5.4% in international travel from January 2014 to 2015. This increase demonstrates a significant opportunity of growth for the travel retail industry as it offers travelers internationally-branded goods at competitive prices.
As a member of IAADFS, Nishi Pearls has proudly taken part of the Duty Free Show held from March 22nd to 25th for the second year in a row, anticipating the development of new relationships as well as strengthening existing ones.
"One of our goals for this year's show was to explore business opportunities in border stores and cruise ships since our product and packaging is perfectly tailored for their end-consumer" says brand manager, Vanessa Lombardi.
New designs from the Eclipse collection featuring exotic genuine cultured Tahitian pearls were on display, specifically tailored for cruise lines given the luxurious appeal of Tahitian pearls.
New Retail Spinner
Considering the vital importance of retail spinners in the duty free market, Nishi Pearls' launch of a new retail spinner was specially designed to fit the business strategy of border stores. The merchandise displayed within a retail spinner is usually packaged in a box with a window so that the jewelry can be attractively displayed. Nishi Pearls' retail spinners were designed to fit needs and aesthetics that are specific to border stores and airports, including the price point of the items displayed to prevent potential theft, for instance.
In-flight Listings
Nishi pearls also hopes to expand their presence in in-flight boutiques as a result of their successful listings in Air Canada's in-flight magazine beginning with the 2014 fall/winter edition of the Air Canada travel retail program. It featured one of their best-selling sets, a genuine cultured freshwater pearl silver thread necklace with matching stud earrings which has proven to be so popular that Air Canada has decided to renew this listing for the 2015 spring/summer edition of their program.
They have also recently co-branded with Swarovski, in which they offer a pendant and earring set made with genuine cultured freshwater pearls featuring Swarovski Zirconia. This set has been featured in the fall/winter program of Asia flights and is now exclusively available to pre-order online in the Air Canada boutique.
New Booth Location
One of Nishi Pearls' strategies this year was to move their booth's location to the Cyprus Hall to be amongst other leading brands such as the Hershey company, Revlon and Braun, in hopes of being surrounded by increased traffic and maximizing their exposure. They also had the opportunity to meet with potential sales representatives who are suited to promote their brand's unique identity. In addition to its vast selection of genuine cultured pearl jewelry and exclusive designs, this unique brand identity is the driving factor that distinguishes Nishi Pearls from the other pearl jewelry companies in attendance.
As they venture into the travel retail market, Nishi Pearls has captured the attention of renowned travel magazines, namely The Americas Duty Free & Travel Retailing and Frontier Magazine, in which they discuss their prospects in the travel retail industry including this year's attendance at the Duty Free Show of the Americas.
Nishi Pearls™ is a brand that specializes in designing and creating a wide range of genuine cultured pearl jewelry that creates the perfect marriage between classic and contemporary. With offices located in Asia, Canada and the U.S.A, Nishi Pearls has been making its mark at some of the most prominent international jewelry fairs including the Jewelers International Showcase, the Orlando Duty Free Show of the Americas and the Jewelers' Circular Keystone's (JCK) annual trade show in Las Vegas, to name a few.
Nishi Pearls' dedication to quality is reflected in its partnerships with leading professionals, including their latest co-branding endeavor with Swarovski as well as Air Canada's Inflight program. Their award-winning jewelry is inspired by the consumer of today and the fashion of tomorrow.
Visit them at: http://www.nishipearls.com/online/