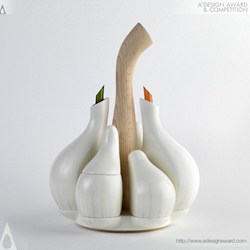 Como, Italy (PRWEB) March 31, 2015
A' Design Award and Competition is pleased to announce that the design project Ajorí by Carlos Jimenez Perez & Pilar Balsalobre has been announced as a winner of the Golden A' Design Award in Bakeware, Tableware, Drinkware and Cookware Design Competition Category.
Insights on Ajorí
Carlos Jimenez Perez & Pilar Balsalobre, the project leader of the award winning Kitchenware work Ajorí explained "Ajorí is a creative solution to organize and store various seasonings, spices and condiments, to satisfy and fit the different culinary traditions of each country. Its elegant organic design makes it a sculptural piece, resulting as an excellent ornament to reflect as a conversation starter around the table. The package design is inspired by the garlic skin, becoming a singular proposal of eco-packaging. Ajorí is a eco-friendly design for the planet, inspired by nature and made entirely from natural materials." Learn more and download high-resolution photos at: https://competition.adesignaward.com/design.php?ID=31751
Creative Team for Ajorí
Ajorí was designed by Carlos Jimenez Perez and Pilar Balsalobre de la Hera
The Golden A' Design Award
The Golden A' Design Award is a prestigious award given to top 3% percentile designs that has carried out an exemplary level of quality in design. Entries to the A' Design Award & Competition are peer reviewed and anonymously voted by a grand jury panel consisting of design scholars, prominent editors and design professionals. Entries are voted on predetermined evaluation criteria such as aesthetics, design quality and techniques. Award winning designs are exhibited internationally in Italy and World Design Hub. Award winners are published and featured in a hard-copy book, are given design excellence trophies and are included in World Design Rankings and are invited to join the glamorous black-tie award ceremony in Como Lake. Award winning works are further translated to all languages to create true international reach.
About A' Design Award and Competition
A' Design Award and Competition was established to create a global awareness for good design practices and principles, in order to push designers, brands and companies worldwide to develop superior products and projects that benefit society. The A' Design Awards highlights and promotes excellent design works to create incentives for designers to come up with better designs. To learn more about the design competition, please visit: http://www.whatisadesignaward.com