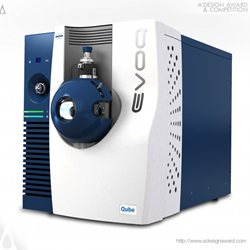 Como, Italy (PRWEB) March 31, 2015
A' Design Award and Competition is pleased to announce that the design project Bruker EVOQ by Daniel Dion has been announced as a winner of the Golden A' Design Award in Scientific Instruments, Medical Devices and Research Equipment Design Competition Category.
Regarding Bruker EVOQ
Daniel Dion, the creative mind behind the award winning Medical Product design Bruker EVOQ demonstrated "The Bruker EVOQ MS - developed under the direction of Dr. Rohan Thakur and the Bruker team - provides excellent, industry leading, sustained sensitivity. Key design elements provide incredible robustness that allows users to run literally thousands of samples before required cleaning or maintenance. The Industrial Design, provided by Benchmark Electronics Inc., reinforces intuitive usage and directs the users attention to the physical interface on the front face of the system. The design language communicates robustness speed, power and fluidity though the metaphors of jet engines and surfing." Learn more about this design: https://competition.adesignaward.com/design.php?ID=31804
Design Team for EVOQ Triple Quad Mass Spec
EVOQ Triple Quad Mass Spec was imagined by Bruker Corporation Design Team, by the direction of, Dr. Rohan Thakur
The Golden A' Design Award
The Golden A' Design Award is a prestigious award given to top 3% percentile designs that has carried out an exemplary level of sublimity in design. The designs are judged by a panel of three different jury which is composed of Academic, Professional and Focus Group Members. The designs are evaluated with score normalization to remove any biases and are voted on aspects such as functionality, ergonomics, engineering, presentation, innovation, usability, fun details, technology, and any other specific points that could be considered, each of these points are further weighted for different jury groups. Laureates of the A' Design Award are given the A' Design Prize and are further invited to join the World Design Consortium.
About A' Design Award and Competition
The A' Design Award and Competition has a philanthropic goal to advance society by creating awareness for good design, science and technology, given this mission the design competition aims to highlight the excellent qualifications of best designs, design concepts and design oriented products worldwide. A' Design Award and Competitions are organized and awarded annually and internationally in multiple categories to reach a wide, design-oriented audience. Learn more about the A' Design Awards at: http://www.whatisadesignaward.com