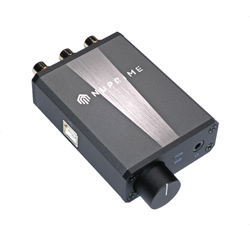 NuPrime uDSD is the marketplace's most advanced USB-powered portable DAC. The unit requires no external power supply, audio enthusiasts, musicians and recording engineers can employ it with laptops for work or enjoyment anywhere. - Jason Lim, NuPrime CEO
(PRWEB) April 16, 2015
NuPrime Audio takes pride in introducing the NuPrime uDSD, an especially well priced, high-performance USB-powered portable DAC and headphone amp. Supporting the latest high-resolution music formats, the uDSD is capable of decoding sample rates ranging from 44.1kHz to 384kHz (PCM) as well as native DSD decoding ranging from DSD 64 up to DSD 256. With an output of up to 140mW x 2 @ 32 ohms, the uDSD's powerful headphone amplifier is capable of driving today's most sophisticated headphones.
The uDSD is equipped with one Coaxial S/PDIF and 2V RCA Analog outputs for compatibility with a broad variety of systems. Of equal importance, with its native DSD format decoding capability, the uDSD is ideal for upgrading existing high-end non-DSD DACs. The uDSD features direct DAC out, i.e., fixed-analog out, in order to provide better overall sound quality, and in particular, better-sounding DSD. As an added benefit, this arrangement prevents distortion in tandem with receiving units with volume-adjusting capabilities. The headphone circuit, built on a sophisticated balanced design, provides the uDSD with the ability to drive almost any of today's headphones -- a feature that can also be used to drive active speakers.
Features

24-bit/384kHz and native DSD 256 support
Discrete USB audio receiver and D/A converter, with coaxial S/PDIF output
Asynchronous transfer mode for doubled jitter-reduction at data input and over-sampling filter stages
High-performance headphone amplifier
High voltage 2V analog output
Coaxial S/PDIF output
High-quality analog volume control
Diminutive size
USB powered, no external power supply required
Works with Windows 7/8 and Mac OS.
Specifications
Input: USB 1.1, 2.0, compatible.
Outputs:

Analog Stereo RCA Out.
Digital Coaxial Out. - Headphone Amplifier Out (3.5 mm-jack socket)
USB sampling rates: 44.1,48,88.2,96,176.4,192,352.8,384KHz and DSD 2.8,5.6,11.2MHz.
Bit resolution: 16-24-bits.
Output: Analog RCA 2V rms (DAC out).
Headphone output: max 140mW x 2 @ 32 ohm.
Pricing and availability
Shipping by mid-April, 2015, the NuPrime uDSD will be available worldwide at a suggested retail price of US$179.
***
About NuPrime
NuPrime, having acquired NuForce's high-end product line, offers several of a projected series of superbly engineered yet affordable audio components: the NuPrime IDA-16, an extreme-resolution integrated digital amplifier; the DAC-10H, a full-featured digital-to-analog converter and preamp capable of PCM 32bit/384kHz and DSD256 decoding with dual headphone outputs (6.2mm and XLR); and the ST.-10, a well-priced Reference LE class stereo amplifier with 150W X 2 (at 8 Ohm) power. Rounding off this new-product list are the celebrated NuForce Reference 20 mono amp and P-20 preamp. Under the leadership of NuForce co-founder and original CEO, Jason Lim, NuPrime aims to achieve yet greater heights of excellence and value in high-performance audio.
Contacts
International Sales: sales(at)nuprimeaudio(dot)com
USA Sales: sales(at)heapaudio(dot)com
Distribution or Press: jasonl(at)heapventure(dot)com
nuprimeaudio website