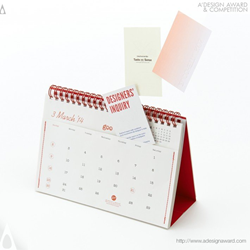 Como, Italy (PRWEB) March 31, 2015
A' Design Award and Competition is pleased to announce that the design project 17th goo Calendar "12 Pockets 2014" by Katsumi Tamura has been announced as a winner of the Golden A' Design Award in Graphics and Visual Communication Design Competition Category.
More on 17th goo Calendar "12 Pockets 2014"
Katsumi Tamura, the creator of the awarded Graphic work 17th goo Calendar "12 Pockets 2014" said "The promotional calendar of the portal site, goo is a functional calendar with one sheet for each month transforming into a pocket that allows you to keep and manage your business cards, notes and receipts. The theme is "Red String" to show the bond between goo and its users. Both ends of the pocket are in fact held by red stitches which become the highlight of the design. A calendar in a pleasantly expressive form, it is just right for 2014. " To learn more visit: https://competition.adesignaward.com/design.php?ID=31921
Project Members for 12 Pockets 2014
12 Pockets 2014 was imagined by Executive Creative Director: Motohisa Suzuki, Creative Director: Kunio Maeda / Takuya Okamoto, Producer: Tomoko Ito, Art Director: Katsumi Tamura, Designer: Takahiro Sugawara, Copywriter: Toshiyuki Nagamatsu and Printing Director: Osami Gondaira
The Golden A' Design Award
The Golden A' Design Award is a prestigious award given to top 3% percentile designs that has exhibited an exemplary level of excellence in design. Entries to the A' Interior Design Competition are voted on predetermined evaluation criteria by an expert jury panel of architects, academics and media members. Laureates of the A' Design Awards are given an exclusive winners' kit which contains PR and publicity tools such as inclusion in World Design Consortium or Buy Sell Design network in addition to the award trophy, yearbook, certificate, award winner logo, and invitation to the gala-night and exhibition in Italy.
About A' Design Award and Competition
Since its establishment in 2009, the International A' Design Award and Competition aims to highlight the excellent qualifications of best designs, design concepts and design oriented products worldwide by highlighting, promoting and recognizing superior design works in all industries. A' Design Award and Competitions are organized and awarded annually and internationally in multiple categories to reach a wide, design-oriented audience. The ultimate aim of the A' Design Award & Competition is to create a global awareness for good design practices and principles, as well as to push designers to create better products that benefit society. Learn more about the A' Design Awards: http://www.designaward.com