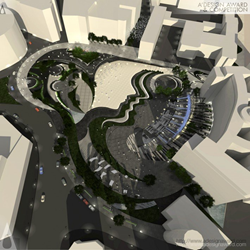 Como, Italy (PRWEB) March 31, 2015
A' Design Award and Competition is pleased to inform that the design project Tahrir Square by Dalia Sadany has been announced as a winner of the Golden A' Design Award in Urban Planning and Urban Design Competition Category.
More information on Tahrir Square
Dalia Sadany, the lead designer of the award winning Urban Planning project Tahrir Square said "Tahrir Square is the backbone of Egyptian political history and therefore reviving its urban design is a political, environmental and social desideratum. The master plan involves closing off some of streets and merging them into the existing square without upsetting traffic flow. Three projects were then created to accommodate a recreational and commercial functions as well as a memorial to mark Egypt's modern political history. The plan took into account sufficient space for strolling and seating areas and a high green area ratio to introduce color to the city. " Learn more about the award winning design: https://competition.adesignaward.com/design.php?ID=32233
Team Members for Tahrir Square
Tahrir Square was realized by Dalia Sadany and Dezines Team
The Golden A' Design Award
The A' Golden Design Award for Good Urban Planning Design is a highly prestigious and internationally recognized design accolade. The Urban Planning design competition category is indeed one of the most competitive design competition categories among hundred design categories as listed in the Design Classifications platform. Entries to the A' Design Awards are peer reviewed and anonymously judged by an expert jury panel of press members, scholars and professionals. Laureates are provided an exclusive winner kit that contains the award trophy, yearbook, certificate as well as PR and publicity services.
About A' Design Award and Competition
Since its establishment, the A' International Design Award and Competition has been featuring the very best designs from across the globe. The mission of the A' Design Accolade is to highlight good design products, projects and concepts in order to create a global awareness for good design worldwide, as well as to push designers, artists, architects and brands to come up with superior products and projects that benefit society. Learn more about the A' Design Competition at http://www.whatisadesignaward.com