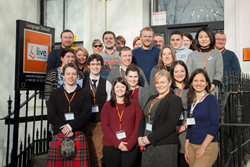 Our staff genuinely feel looked after, respected, included and listened to, which shows in our staff retention rate and our staff culture questionaire.
Glasgow, Scotland (PRWEB UK) 1 April 2015
Live Language, a privately owned language learning centre in Glasgow, has achieved the prestigious Investors in People Silver Accreditation, the most successful framework for business improvement through people in the UK. This represents a true commitment to employees and demonstrates a solid foundation of good practice which remains challenging and aspirational for many organisations.
Live Language joins an exclusive group of UK employers eligible to use and display the sought after Investors in People logo and plaque and enjoy its benefits.
Commenting on the award, Adell Mitchell, Director, said, "We are once again very proud to have achieved a Silver Award from IIP. Our staff genuinely feels looked after, respected, included and listened to, which shows in our staff retention rate and our staff culture questionnaire. This atmosphere transfers to anyone who walks in our front door; they always say its a happy, friendly place to be. A personal trainer, a visiting osteopath, a Friday Lunch Club and mentoring throughout the organisation are just some of the ways we show our staff how important they are to us. In the next three, years we are working towards a Gold Award by investing more time in talent management and reward and recognition strategies."
Peter Russian, Chief Executive of Investors in People Scotland, said, "This is a fantastic achievement for Live Language. I would like to congratulate the organisation and its people on their commitment to continuous improvement. Investors in People offers a flexible, practical and easy to use business improvement tool designed to help organisations and their people achieve their objectives. I hope that more organisations in the area will be encouraged to sharpen their competitive edge by choosing to work with us."
Live Language is based in Charing Cross in Glasgow and has just under 50 international staff teaching and servicing their 300 adult learners 12 languages, including English, Spanish, Japanese and even Norwegian. Adell, who started teaching English to students in her kitchen 13 years ago, is looking to open schools overseas in the next year. "Everything we have learned through the Investors in People process is ready to be exported, and we are ready to take on this challenge."
For more information on Live Language please contact info(at)live-language(dot)com