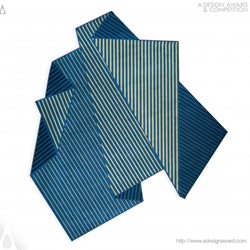 Como, Italy (PRWEB) March 31, 2015
A' Design Award and Competition is pleased to announce that the design project Folded Tones by Enoch Liew has been announced as a winner of the Golden A' Design Award in Furniture, Decorative Items and Homeware Design Competition Category.
Insights on Folded Tones
Enoch Liew, the designer of the awarded Furniture work Folded Tones demonstrated "Rugs are inherently flat, the goal was to challenge this simple fact. The illusion of three-dimensionality was achieved with just three colours. The variety of tones and depth of the rug is dependent on the width and density of the stripes, rather than a large palette of colours that may jar with a particular space, thus allowing for flexible use. From above or far away, the rug resembles a folded sheet. However, while sitting or lying on it, the illusion of the folds may not be perceptible. This lead to the use of simple repetitive lines that can be enjoyed as an abstract pattern up close. " Learn more about this design: https://competition.adesignaward.com/design.php?ID=32417
The Golden A' Design Award
The Golden A' Design Award is a prestigious award given to top 3% percentile designs that has carried out an exemplary level of perfection in design. The designs are judged by a panel of three different juries which are composed of Academic, Professional and Focus Group Members. Entries to the A' Furniture Design Awards are evaluated with score normalization to remove any biases and are voted on aspects such as functionality, ergonomics, engineering, presentation, innovation, usability, fun details, technology, and any other specific points that could be considered, each of these points are further weighted for different jury groups. Laureates of the A' Furniture Design Awards are granted the A' Design Prize which includes a series of PR and publicity services in addition to the award trophy, award winner logo, yearbook and certificate.
About International A' Design Award & Competition
The A' Design Award & Competition was established to recognize and promote the very best designs in all countries and in all disciplines to create a global appreciation and awareness for good design practices and principles. The ultimate aim of the A' Design Competition is to push designers, artists and architects worldwide to create superior products and projects that benefit and advance society. Learn more about the A' International Design Awards at http://www.designaward.com