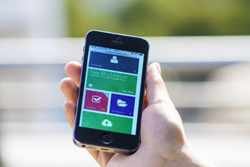 Suntico has been described as a private social network that links to your accounting data. Kind of Facebook meets Sage
Buford, GA (PRWEB) March 31, 2015
Suntico, the online account management system that links to Sage 50 accounting software, now includes email notifications for users that are following certain records in the system. For example, if a user is following a customer, or an invoice record and a colleague posts a comment against that record, then the user can now receive an email notification.
"There has been a lot of discussion about private social networks replacing email systems within a company." says Hugh Johnson, SVP Business Development at Suntico. "The reality is that private social networks and email systems are optimized for different things. Suntico has been described as a private social network that links to your accounting data. Kind of Facebook meets Sage. This keeps all notes and discussions relating to a Sage record in one place, easy to find. Email then becomes a powerful way to let people know when these notes and discussions are updated."
Suntico includes the facility to link discussion threads, tasks and events to Sage 50 records. A user can now receive an email notification whenever these discussions, tasks or events are created or updated.
About Suntico:
Suntico is an online account management system for small to medium sized businesses employing 10 to 100 people.
Suntico includes a Facebook-like online account management solution and is currently available for Sage 50. Accounting US (formerly Peachtree), Sage 50 Accounting Canada (formerly Simply Accounting), Sage 50 Accounts in the UK and Ireland, and Sage One (Ireland and UK).