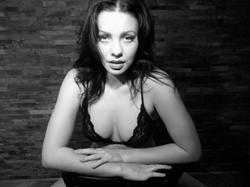 I would not be who I am today without the ruckus I caused over my yearbook photo. Women should wear whatever they want, and not be put down for it. There is nothing wrong with looking sexy. We should wear what makes us feel powerful and strong.
Amsterdam, Netherlands (PRWEB) April 07, 2015
Remember Sydney Spies? January 2012, Sydney demonstrated in front of her high school in an attempt to get her sexy photo into her yearbook. The Durango Herald was the first to pick up the story on January 4, 2012. In the photo Sydney seductively climbs a fire escape in a yellow skirt and little else. Sydney shocked the nation and the nation erupted. She appeared on The Today Show defending her 'freedom of expression'. Sydney went on to play a minor role in a SyFy movie. Sydney and her mother, Miki Spies made news a few months later after being arrested at a house party, as reported by the Durango Herald on August 13, 2012.
Their notoriety continues. The pair have moved to The Netherlands and started SpiesGirls, where they are 'Spiritual Care Givers'. Their website features seductive photos of a brunette Sydney and declares 'Every woman has the power to manifest her deepest fantasies'. They accept female clients only.
Sydney recently submitted a letter to the editor of her home town newspaper, The Durango Herald. She speaks out on the 'yearbook scandal' and her take on feminism. Sydney's letter; "Young people are the ones who will change the world. Be a rebel. Find your cause. Wear anything that pleases you. Make people mad. Thank you, Durango. You helped me grow. I've always had a rebellious spirit. Now, I embrace it."
Miki speaks on radical feminism via, YouTube, claiming; "Women are not equal to men, they are better than men. They are." The women produce reality TV-style programing. The videos are amateur and shot with a handheld camera. At this writing they have roughly 20 episodes and plan to upload monthly.