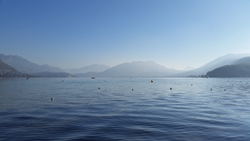 "The Stern Art Gallery is very excited to be partnering with Trip of a Lifetime and proud to support a cause that is so close to the hearts of many Stern students." - Denice Zhu
New York, New York (PRWEB) March 31, 2015
Trip of a Lifetime, a non-profit organization that provides funding for underprivileged students to go on summer travel experiences, is pleased to announce a partnership with the Stern Art Gallery. As part of its partnership, the Stern Art Gallery will be holding an opening reception on Wednesday April 1st from 7pm to 9pm at NYU Kimmel's Center with all the proceeds from the event benefiting Trip of a Lifetime.
"The Stern Art Gallery is very excited to be partnering with Trip of a Lifetime and proud to support a cause that is so close to the hearts of many Stern students," says Denice Zhu, Co-Director of the Stern Art Gallery. "The Stern Community greatly values studying abroad and we think that our partnership will greatly benefit both sides."
In addition to over 100 traditional works submitted by NYU Students, there will be one very special addition to the gallery: a collage of over fifty Instagram photos submitted by Trip of a Lifetime followers featuring images of their favorite places to travel to. Some destinations included in the collage include Tokyo, Paris, and New York City.
"The Stern Art Gallery is a great opportunity for Trip of a Lifetime to expand its presence and reach college students," says Stan Rosenberg, Trip of a Lifetime's founder. "I am excited to see the great works on display and meet these talented artists."
Sponsors for the Art Gallery include Fisher Brothers, Berdon, Goldman Sachs, and Insomnia Cookies and representatives from both the Met and MOMA will be in attendance. For more information about the Art Gallery, please visit https://www.facebook.com/events/516974781768027/
and for more information about Trip of a Lifetime, please visit http://www.projecttoal.org