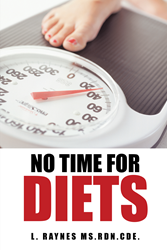 nutrition is a science, not an opinion
San Diego (PRWEB) April 01, 2015
Each year at least 2.8 million people die as a result of being overweight or obese, according to the World Health Organization. Obesity-related conditions include heart disease, stroke and type 2 diabetes, which are some of the leading preventable causes of death.
With more than forty years of clinical experience as a registered dietitian and nutritionist, L. Raynes is working to provide an effective, safe and balanced solution to those looking to manage their weight without the misinformed and fad diet programs.
"I truly believe that nutrition is a science, not an opinion," Raynes said. "Properly applied nutrition principles spell the difference between obesity and health, and they can prevent the deterioration of our health as a nation."
Raynes practical approach, developed through her work in hospitals, classrooms and weight management groups, can be found in her new book, "No Time for Diets." Through the guide and its tools, Raynes provides a workable solution that is both nutritionally based and economical. She touches on not only the process of healthy eating, but also the mental and emotional benefits of being active.
Contrary to the fad diets and sensationalized weight loss products, Raynes advocates for an attainable, long-lasting change in attitude and lifestyle.
For more information, visit http://www.notimefordiets.com.
"No Time for Diets"
By L. Raynes MS.RDN.CDE.
ISBN: 9781496931115
Available in softcover, hardcover, e-book
Available on Amazon, Barnes & Noble and AuthorHouse
About the author
With degrees from the University of Massachusetts and Framingham State College, L. Raynes is a registered dietitian and nutritionist, and she has been actively practicing since 1973. Her career has been focused on adult nutrition, including close work with diabetes, kidney care, heart health and weight management. She has also developed and taught nutrition classes at various schools and program centers. Raynes is the mother of two sons and currently lives in San Diego, California.
# # #