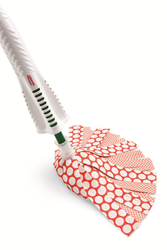 Arcola, Ill. (PRWEB) April 02, 2015
With spring cleaning season upon us, consumers can check out The Libman Company's website (http://libman.com/cleaning-tips.aspx.) for helpful cleaning tips both inside and outside of the home. Everything from natural cleaning tips to unique uses for Libman cleaning products can be found on the site to help consumers save time and money this spring.
Libman has accumulated hundreds of these customer tips through its monthly "Tip of the Month" contest where consumers submit their tip and are automatically entered to win the monthly grand prize package featuring a Libman® Wonder® Mop, Large Angle Broom and a Power Scrub Brush.
The cleaning tips are organized into several categories including: Mopping, Sweeping, Kitchen, Surface Care, Bathroom, Personal Care, Outdoors and Misc.
"We consider our customers cleaning experts in their own right, and appreciated any new insights and uses they have not only for our products, but cleaning in general," said Eric Minor, Senior Marketing Director, at The Libman Company. "We are happy to share our customers' great tips with the rest of the world," he added.
Here are some highlighted tips from the Libman website:
"Spring cleaning is made easier if you fill your sink with 1 cup of ammonia to approximately one gallon of water. Dip in your very clean Libman sponge mop, remove all excess solution, and then mop your walls. This removes cigarette smoke stain, natural gas film, and even propane stains with ease. No rinsing is required if you keep the mop dry enough."
-Victoria H. in Seven Points, TX
"To clean the smoky, burnt on residue from the glass doors on your fireplace or wood burning stove: Dip a damp paper towel in ashes and use them to clean the glass. I also use the ashes from our fireplace to clean the glass window on our gas grill."
-Donna S. in Rochester, MN
"The Libman Curved Handle Dish Brush is useful in cleaning baseboard radiator fins. The bristles are soft enough not to damage the delicate fins yet sturdy enough to scrub away any compacted dust. The short handle enables me to better get around the center radiator pipe to clean back and underneath areas."
-Irene M. in Old Bethpage, NY
"Take the glass light bulb covers off ceiling fans and chandeliers and stick them in the dishwasher. They come out sparkling clean, and it's less work for your tired hands."
-Stacy M. in West Plains, MO
"To get kids to help with the bathroom clean-up, have them clean the sink and tub with baking soda and vinegar. The kids love the fizzing and it gets the sink and tub sparkling clean."
-Lisa W. in Lexington, KY
"When you encounter rust rings or stains left behind by appliances on your cushioned no-wax floor, gently scrub with a solution of cola and coarse salt. Rinse thoroughly. It effectively removes the rust without ruining the shine."
-Cathy M. in Lucknow, ON
"I use an 18" Libman Multi-Surface Push Broom as a large scrub brush to scrub both high and low areas of aluminum or vinyl siding."
-Rob F. in Ottawa, IL
"To remove a spot from the oven caused by a pie or casserole dish running over, first let the oven cool, then place a cloth on the spot and saturate it with household ammonia. Let soak 2 hours, then rinse."
-Nancy A. in Gahanna, OH
For more cleaning tips visit http://libman.com/cleaning-tips.aspx.
About The Libman Company
The Libman Company is a family-owned company that has been making quality cleaning tools since 1896. The company manufactures products from brooms and mops to more specialized tools for kitchen and bathroom cleaning and industrial uses. Libman proudly manufactures most of their products in the United States, including the company's well-known Wonder® Mop. For more information about the Libman Company, please visit http://www.libman.com.