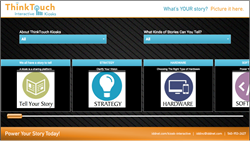 IDD was great in helping to deliver stories and current info about the college to our donors, stakeholders and visitors.
Blacksburg, VA (PRWEB) April 01, 2015
We all have a story to tell. History, art, science, successes, start-ups, sports; it doesn't matter. A story sees no boundaries for its subject. Appetites for stories are a reflection of the basic human need to understand symbols in life – an emotional journey to creating a connection. Blacksburg-based Interactive Design & Development (IDD) has launched an interactive software platform solution to help do just that – tell a story.
IDD has been developing interactive software applications for over 24 years, but after the Defense Intelligence Agency commissioned IDD to develop an app that celebrated 50 years of history, they knew they were onto something special. Employees and visitors scrolled through decades of stories of service since the 1960s – from the Cuban Missile Crisis to the Hijacking of the Achille Lauro. The project enjoyed great success, so IDD continued to perfect the solution.
This month, IDD launched ThinkTouch Interactive Kiosks, a scalable kiosk software platform that specializes in translating complex stories into intuitive user experiences.
Anyone Can Use It
ThinkTouch kiosk software is built on a powerful content management system (CMS) which allows anyone with an Internet connection to enter, edit, manage, and publish all story content from the "cloud." The CMS editors are designed to be easy to use – no technical knowledge required. The system supports video, audio, images and written content. Once the story is captured through a simple web-based form, it's published to an intuitive kiosk player that's easy to navigate and fun to engage with.
Multiple Kiosks, One Database
The scalable software platform is designed to grow as the stories grow and change. The user can create and manage multiple kiosks from one centralized story database. For example: if a county office decides to put an interactive kiosk in a local museum, they can create and add a second kiosk – with completely different content – in the county Visitors Center, and manage them both from the same web portal. The platform can also be downloaded to a portable tablet that can be taken into the field, should the user need to travel with a story.
Museums and Universities Across The Country Are Catching On
The success of ThinkTouch has led to contracts with a roster of clients that includes the Oregon Music Hall of Fame, the National Hellenic Museum in Chicago, the Science Museum of Virginia, Virginia Tech, the Library of Congress, and the Smithsonian Institution.
Vernon Meacham, the Director of Development for the Virginia Tech College of Agriculture and Life Sciences, was asked for his thoughts on ThinkTouch Kiosks and said, "This was a new concept for the college…and IDD was great in helping set up the hardware and implement the software package to deliver stories and current information about the college to our donors, stakeholders and visitors."
Pieces of history are created every day. That history can preserved to help make sense of the past and shape the future. ThinkTouch Interactive Kiosk Software is a welcoming place to start.
Want to step inside to see for yourself?
Play the online ThinkTouch Demonstration Kiosk
Interactive Design and Development (IDD) is located in Blacksburg, VA and was founded in 1991. IDD has a rich history in adapting technology trends to software development with a simple approach – up-front solutions and reliable support.