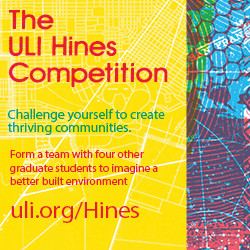 New Orleans, LA (PRWEB) March 31, 2015
WHAT:
Public Forum: Urban Design Competition Finalist Presentations and Winner Announcement
Four graduate-level student teams, including two from Harvard University, one from the University of Maryland, and a joint team of students from the University of Wisconsin – Milwaukee and the University of Wisconsin – Madison, will present their final proposals for the 13th annual Urban Land Institute (ULI) Hines Competition next Thursday at a public forum at the New Orleans Museum of Art (NOMA). The 2015 competition challenged multidisciplinary student teams with the task of devising a comprehensive design and development program for parts of the Tulane/Gravier and Iberville neighborhoods in downtown New Orleans.
A $50,000 prize will be presented to the winning team, and each of the remaining three finalist teams will receive $10,000.
The ideas competition, open to graduate students who are pursuing real estate-related studies at universities in North America, challenges graduate students to create proposals for the development or redevelopment of a designated site in a U.S. metropolitan area. While based on a fictional scenario, the 2015 competition addresses New Orleans's real-life concerns of developing sustainable neighborhoods that represent the city's uniqueness with the promise of economic innovation and inclusion, as well as access to cultural, employment, transportation, and housing resources.
For more information on the ULI Hines Competition, visit: http://uli.org/hines
WHEN:
Thursday, April 9, 2015

8:30 a.m. – Introduction by Patrick Phillips, ULI Global CEO, and Jury Chairman J. Michael Pitchford, president and chief executive officer at CPDC in Silver Spring, Maryland
9:00 a.m. – Team #1 Presents and Answers Questions from Jury
10:00 a.m. – Team #2 Presents and Answers Questions from Jury
11:00 a.m. – Team #3 Presents and Answers Questions from Jury
12:00 noon – Team #4 Presents and Answers Questions from Jury
1:00 p.m. – Jury Deliberation and Lunch Break
2:30 p.m. - Announcement of Winner and Presentation of Certificates
WHERE:
New Orleans Museum of Art: NOMA
Stern Auditorium
1 Collins Diboll Circle,
New Orleans, LA 70124
BACKGROUND:
The Urban Land Institute (uli.org) is a nonprofit education and research institute supported by its members. Its mission is to provide leadership in the responsible use of land and in creating and sustaining thriving communities worldwide. Established in 1936, the Institute has over 34,000 members representing all aspects of land use and development disciplines.