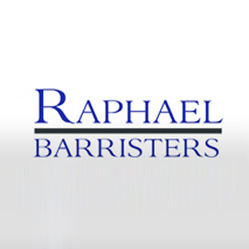 Toronto, ON (PRWEB) March 31, 2015
Raphael Barristers, the premier Ontario personal injury litigation law firm, is reminding riders to keep safety in mind by offering a few tips. The firm advises riders to wear the appropriate gear when joyriding, including helmets, reinforced jackets, gloves, durable and closed-toe footwear, and full pants. Raphael Barristers warns riders to stay off the road during bad weather, if possible, and to be aware of upcoming road hazards, such as potholes and railroad tracks. The lawyers at Raphael Barristers also encourage riders to check their bike out thoroughly before taking that first ride of the year. Mechanical parts should be checked for wear and corrosion, and tires should be properly inflated.
Raphael Barristers also reminds automobile drivers to be alert for motorcyclists and respect their space. Drivers should take caution when merging and switching lanes, and drivers should also be careful not to follow motorcyclists too closely to decrease the likelihood of a collision. A large number of motorcycle crashes occur because automobile drivers did not see them.
Single bike accidents are also a leading trend, but following the aforementioned tips will decrease these incidents, according to Raphael Barristers. The firm specializes in personal injury litigation and works with motorcycle accident cases. "Motorcyclists driving properly and wearing safety gear are still at a disadvantage when involved in an accident with other motor vehicles. Injuries often include traumatic brain injury, spinal cord or serious orthopaedic injuries and amputation of limbs," says the firm.
The lawyers at Raphael Barristers hope that motorcyclists and automobile drivers alike will take the necessary precautions to decrease the number of motorcycle-related accidents, injuries, and fatalities. More information can be found at http://www.raphaelbarristers.com.
About Raphael Barristers
Raphael Barristers is a leading law firm that was founded in 1963 in Windsor, Ontario. The firm celebrates a rich tradition of excellence in client care and focuses on personal injury litigation. Currently, Raphael Barristers is home to several lawyers who are certified as specialists in Civil Litigation by the Law Society of Upper Canada, as well as lawyers who serve as Deputy Judges with the Superior Court of Justice.