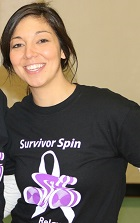 "I thought it would be great to plan a fundraising event that was fun, different and would get people out of their houses to do something for a good cause"
Maywood, IL (PRWEB) March 31, 2015
For its fourth consecutive year, Survivor Spin, an award winning local fundraiser designed to raise funds for cancer survivors, is hoping to raise thousands of dollars at its upcoming April, 11th event hosted by the Loyola Center for Fitness (LCF) in Maywood, IL.
Twenty-Seven year old personal trainer and spin instructor for the LCF, Nicole Capone, launched the Survivor Spin Relay in 2012, a fundraising event held at LCF where teams participate in a fun-filled evening of friendly indoor cycling competition accompanied with live music, raffles and a photo booth.
"I thought it would be great to plan a fundraising event that was fun, different and would get people out of their houses to do something for a good cause", said Survivor Spin Founder Nicole Capone. "I am a spin instructor, so this is what inspired me to create an event that utilized the indoor bikes for a spin-a-thon."
Capone said she has been amazed by the ongoing support she receives from the members and employees at the fitness center as well as the business owners from the various communities who either come out and participate or provide sponsorship and donations for the event.
Since 2012, Survivor Spin has raised more than $50,000 and is hoping to raise $30,000 this April.
The funds raised will be donated to the Survivor Fund, a fund set up to provide assistance to cancer survivors who may need financial assistance with the fees associated with the Survivor Care exercise program. The Survivor Care Program is an integrated lifestyle and wellness program that provides nutrition consultations, personal training sessions with a cancer exercise specialist and one session with a massage therapist to local area cancer survivors and those who have been treated at Loyola's Cardinal Bernadin Cancer Center.
"It has been clinically proven that exercise has many benefits for people battling cancer," said Capone. "It not only helps with treatments such as chemotherapy and radiation therapy but provides physical, psychological and emotional benefits that improve quality of life."
Capone said LCF designed the Survivor Care program with those facts in mind and aims to help cancer survivors regain their daily physical function and quality of life post treatment.
"The Survivor Care program has helped numerous survivors by giving them the means to have a stronger recovery without the additional worry of a financial burden," said Capone.
Capone works closely with Loyola Center for Fitness's Medical Integration Coordinator, Val Walkowiak, who works with Loyola's healthcare providers to educate them and their patients about the program.
Capone said they plan to expand the use of funds beyond the Survivor Care Program to their Next Steps Program which will help those who have diseases such as arthritis, cancer, diabetes, heart disease, obesity, orthopedic issues, and respiratory ailments.
"We can help so many people get back on their feet after treatment if we just had some awareness," said Capone.
Throughout the year, Capone and her committee of more than 15 volunteers host Survivor Spin Hype Nights to help build awareness and to raise additional funds. Past events have included a Bunco night, holiday wreath sales and candle light bowls.
Survivor Spin will be held Saturday April 11th from 6-10 pm at the Loyola Center for Fitness located at 2160 S. First Avenue, building 130, Maywood, IL.
For additional information or to sign up for the event please contact Nicki(at)veteranpr(dot)com or visit http://www.loyolafitness.org.
###
About Veteran PR:
Rooted in the belief that hard work coupled with honesty and integrity is the key to any success, Veteran PR strives to help companies build their brand awareness through strategic and effective Public Relations Campaigns and Social Media Marketing Efforts. Veteran PR launched in 2015, after military veteran, Staff Sergeant Jason Thomas, teamed up with his wife and seasoned PR professional, Nicki Thomas. Together their vision is to help small businesses, especially veteran owned businesses, build their brand awareness with a PR Company business owners can trust.