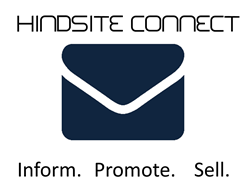 Customers are the lifeblood of service businesses.
(PRWEB) March 31, 2015
HindSite Software, the leading field service management software provider for green industry businesses, today announced the release of HindSite Connect Pro. Connect Pro helps field service businesses retain and grow their customer base with customer satisfaction surveys and mass emails.
Connect Pro is the second tier of HindSite's service business marketing add-on, HindSite Connect. Connect Pro delivers:
-Improved customer retention thanks to post-service customer satisfaction surveys.
-Customer dashboards that deliver actionable insight into customer satisfaction
-The ability to grow revenue with targeted mass emails to customers and prospects
"Customers are the lifeblood of service businesses," explained HindSite's marketing manager, Chad Reinholz. "Yet, many small businesses lack the time and resources to actively measure how each customer is truly feeling. As a result, unnecessary customer churn occurs, which significantly impacts a business' profitability. Our goal with HindSite Connect is to give businesses insight into how their customers are feeling."
In addition to improving customer satisfaction, HindSite Connect Pro makes it easy for field service businesses to send promotional emails to customers and prospects. They simply need to create an email template, select a list of contacts in HindSite, and send their email. Everything from monthly customer newsletters to new product promotions can be sent in a matter of minutes.
"We know field service businesses struggle to find the time to survey their customers and promote their businesses," explained Reinholz. "That's why we designed HindSite Connect to be easy to setup, easy to use and, more importantly, easy to act on customer feedback."
HindSite Connect Pro follows last year's release of HindSite Connect, an email add-on that helps Service businesses inform their customers with transactional emails like appointment confirmations, appointment reminders and appointment follow-ups. To date, HindSite customers have sent hundreds of thousands of emails to their customers.
HindSite also recently released a free eBook, the 15 Emails Your Service Business Must Send to help business owners incorporate email into their business workflow.
To learn more about HindSite Connect, visit http://www.hindsitesoftware.com/hindsiteconnect.cfm.
About HindSite Software
HindSite Software has helped contractors better manage and grow their business with field service software since 2001. Designed by an irrigation contractor, HindSite assists service businesses with scheduling, contact management, field data collection (e.g. mobile field service software), and invoicing in QuickBooks® and Sage50®. This paperless work order management software has been proven to increase efficiency and organization, meaning greater profit potential with less administrative time.