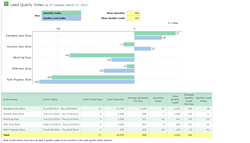 Our leading lead capture technology provides our clients with millions of new leads each year. Without a clear lead scoring strategy it would nearly impossible to effectively pursue only the most sales-ready opportunities.
Chicago, IL (PRWEB) April 08, 2015
eshots, Inc. (http://eshots.com) has released a report highlighting the basic fundamentals of lead scoring, along with implementation tips for event and experiential marketers. eshots collects millions of consumer leads annually, and has tools in place to help their client's sales and marketing teams analyze lead quality and sales readiness. Experiential marketing continues to receive a larger share of marketing budgets, placing more importance on lead follow-up strategy. This piece discusses the following points:

What is lead scoring?
How do you define a quality lead?
How do I use lead scoring in my organization?
How do I follow up on this data?
How can I get this data?
"Lead scoring is something that organizations of all sizes should be using to prioritize their sales leads," said Craig Steensma, founder and CEO of eshots. "If you're going to spend so much of your time and budget on experiential events, you should make sure that you have a strategy to make the most effective use of your time when working with tens of thousands of new leads," Mr. Steensma continued.
eshots' lead scoring solutions are designed to help companies make better event marketing decisions. This includes determining which events are high-performing in terms of driving conversions from potential leads (as opposed to total leads collected). eshots also helps companies prioritize which of the individual consumer leads have the highest intent to purchase, and where follow-up marketing should be focused.
Click here to view this report
About eshots
Founded in 1998 and headquartered in Chicago, IL, eshots, Inc. (http://eshots.com) is the leading event intelligence platform in the experiential marketing industry. eshots helps its clients to set and benchmark event strategies, maximize consumer lead capture and track/convert those leads into sales. eshots' team of consultative account specialists deliver enterprise clients with world-class technologies and solutions within a data-driven framework designed to maximize ROI around their events. eshots' clients include many respected enterprise brands, including Chrysler, Ford, General Motors, Jaguar-Land Rover, Mazda, Mercedes-Benz, Mitsubishi, Nationwide, State Farm and Keurig. The company received a net promoter score of 73 last year, placing it among some of the most respected brands in the world in terms of client satisfaction.
Press Contact
Craig Steensma
CEO
eshots, Inc.
312-253-1555
** Mr. Steensma is available for interviews
** Photos available upon request