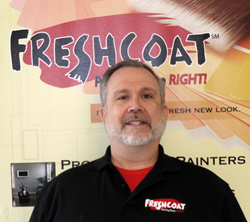 Brunswick, NC (PRWEB) April 01, 2015
Robert Bernish is looking forward to bringing a higher level of service to the painting industry through his new business, Fresh Coat of Brunswick.
Fresh Coat of Brunswick is part of the Fresh Coat Painters franchise network. Fresh Coat Painters offers residential and commercial painting services including interior and exterior painting, wood staining and finishing, and other services for nearly every protective coating application. They use quality, environmentally safe materials and offer a 24/7 customer service center, online scheduling, in-home color design consultations, and detailed quotes. Fresh Coat of Brunswick serves all of Brunswick County.
Bernish served in the military for more than 27 years, including six combat tours. After suffering a foot injury last year, he found himself looking for a new career opportunity. Bernish first came across Fresh Coat Painting on the Vet-Fran website, which provides a listing of veteran-friendly franchise opportunities, and it got him thinking about his personal experiences with painters.
"When I was at home between deployments, I would work on one of the many home improvement projects on my 'to do' list, many of which required some degree of painting. Through those projects, I had the chance to meet quite a few of our local painting contractors. At first, I couldn't get them to pick up the phone or return my calls, and when I did finally schedule an estimate appointment, they couldn't show up on time. Then when they did arrive they would tell me 'about' how much it would cost," Bernish said.
Additionally, Bernish found that some companies would attempt to give quotes over the phone, but refused to guarantee prices without seeing the project while others didn't have workers compensation insurance on their painters.
"There are many skilled tradesmen in our community but the professionalism, operational competency, and customer service are not what they should be. Most of these companies are well intentioned and genuinely want to do a good job, but it takes a different skillset to run a business than it does to be a skilled painter. Even those who do possess a mind for business are unable to do so from the top of a ladder. Brunswick County is in need of an ethical, reliable and professional painting company. That's why I opened Fresh Coat of Brunswick – to bring a higher level of service to this community," he said.
Fresh Coat is committed to quality products and services and the company offers a 3-3-3 customer service pledge, so calls will be answered by a live person within three minutes, a quote will be delivered within three days (customer schedule permitting) and the job will be started within three weeks. All Fresh Coat Painters of Brunswick employees are professional painters who are insured, trained and background checked.
"Our quotes are guaranteed – no surprises and no guesswork – and your satisfaction with our work is absolute. We will not make any deposit or accept payment until you, the customer, sign off on the job. At Fresh Coat, we're not just looking to provide a quality paint job at a good price, our true goal is to develop and cultivate long-lasting and mutually beneficial relationships with each and every customer through quality, professionalism and excellent customer service. We at Fresh Coat look forward to being your painting contractor of choice," Bernish said.
For more information about Fresh Coat Brunswick, call (910)827-8992, email RBernish@FreshCoatPainters.com or visit http://www.FreshCoatBrunswick.com.
About Fresh Coat Painters
With more than 120 locations nationwide, Fresh Coat Painters brings quality customer service, top-notch painting products, professionalism and affordable pricing to the residential and commercial painting industry. They use quality, environmentally safe materials and offer a 24/7 customer service center, online scheduling, in-home color design consultations, and detailed quotes. All painters are bonded and insured employees. For more information, visit http://www.freshcoatpainters.com, call 1-855-FRESH-COAT, or visit us on Facebook, Twitter or Pinterest.
The company was founded in 2004 as part of Strategic Franchising Systems. In the last year, Fresh Coat has been included in the Bond's Top 100 and named to Entrepreneur Magazine's Franchise 500 list. Fresh Coat is also part of the International Franchise Association, the Small Business Association's Franchise Registry, VetFran and Minority Fran.