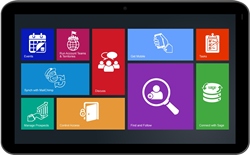 It is important to provide detailed access to some customer records and no access to others
Buford, GA (PRWEB) March 31, 2015
For companies that need to provide very detailed access to some but not all customer or vendor records in Sage 50, Suntico now provides a solution.
Recent enhancements to Suntico enable companies to control access to specific customer or vendor accounts, groups of accounts, or to the accounts looked after by specific sales teams.
"Many of my customers are manufacturing companies who want to provide deep but narrow access to Sage 50 data by independent sales reps." says Alan Bothwell, VP Sales at Suntico. "It is important to provide this detailed information so that reps can serve their customers well, but my clients also want to make sure that reps cannot walk to the competition with full details on all clients."
Suntico is an online account management solution for business-to-business companies that use Sage 50 or Sage One accounting software. The system provides remote access to Sage accounting data and supports collaboration across the company around customer or vendor tasks and events.
"When you combine this account-level filtering with the normal user role and profile controls, you get a very flexible and powerful way to control access to your Sage accounting data." says Hugh Johnson, SVP Business Development at Suntico.
About Suntico:
Suntico is an online account management system for small to medium sized businesses employing 10 to 100 people.
Suntico includes a Facebook-like online account management solution and is currently available for Sage 50. Accounting US (formerly Peachtree), Sage 50 Accounting Canada (formerly Simply Accounting), Sage 50 Accounts in the UK and Ireland, and Sage One (Ireland and UK).