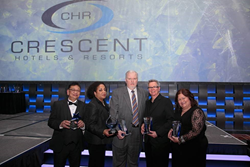 It's the strong dedication from our general managers that insure the highest level of service is given to our guests said Tim Bowes, VP of Sales, "and that's what keep our clients and individual travelers coming back to our hotels year after year.
TYSONS, VA (PRWEB) March 31, 2015
Last week, Crescent Hotels & Resorts, held its Annual Leadership Conference at the Sheraton Tysons Hotel which concluded with an awards gala celebrating individuals and hotel teams among the over 100 managed properties that excel in guest service, community outreach and financial performance. Of the 31 awards given out, five were presented to hotels in the Washington, DC area.
The Community Outreach Award was given to the Sheraton Reston Hotel and Westin Reston Heights. These two hotels, adjacent to each other, are just minutes from the new Silver Line Metrorail via complimentary shuttle. "We are honored to receive this award, as it not only speaks to the culture of our hotels, but our company as well," said Claudia Eggspuhler, Complex General Manager, who oversees both locations. "We feel it's so important to give back to the local community and be a strong community leader." The hotels participated in a fundraiser event nearly every month of 2014 with hotel team members volunteering their time. The nonprofit charities that the hotels assisted included: American Heart Association, Ronald McDonald Charity Homes, Brides Against Breast Cancer, Locks of Love Hair Donation, Backpack Drive, Wounded Warrior Project, Yellow Ribbon Fund, Toys for Tots and Katherine Hanley Family Shelter.
Harold Bassler, General Manager of the Hilton Crystal City at Washington Reagan National Airport received the General Manager Excellence in Sales Award. "We are particularly proud of this award because it truly showcases our commitment to our customers," said Tim Bowes, Vice President of Sales. "With our well-known brands and ideal locations throughout the Washington, DC area, it's easy for our sales teams to bring groups and corporate travelers to our hotels. However, it's the strong dedication from our general managers that insure the highest level of service is given to our guests once they arrive, and that's what keep our clients, groups and individual travelers, coming back to our hotels year after year."
The 2014 Crescent Brightest Star for Leader of the Year Award was given to Butch Tamayo, Banquet Manager at the Sheraton Reston Hotel. "Butch has been with the hotel for over ten years and works closely with all departments of the property to be sure every catering event guest receives the utmost in service, "said Eggspuhler. "He is always going the extra mile. Many of our business and social events come back to the hotel because of Butch." When given his award, it was noted that while Tamayo's responsibility is at the Sheraton Reston, he is always the first to volunteer to assist at the hotel's sister property, The Westin Reston Height, whenever needed – even on his days off.
Marje Jones, also a member of the Reston hotel complex, received an award thanking her for her two years of service on the Sales Marketing And Revenue Team (SMART) Council. Jones holds the position of Complex Director of Sales and Marketing, managing the sales team members for both locations. "The fact that Marje has her hands full, but is still willing to volunteer her time so that all our hotels can benefit from her hospitality expertise shows the kind of person she is," said Lovell Casiero, Executive Vice President of Sales and Marketing for Crescent Hotels & Resorts, who credits the growth of the management company in large part to the high level of talent the company attracts. "I've never worked for a company where so many people are willing to work beyond the scope of their own positions, to help their colleagues and the company be successful," added Casiero.
The last award of the night given to a Washington, DC area hotel was Most Improved Guest Service Score, presented to the Hilton Crystal City at Washington Reagan National Airport team and accepted by Harold Bassler. Less than a year ago, the hotel completed a $12M renovation, including a dramatic refurbishment of the hotel's 393 guest rooms, convention and meeting space, lobby level as well as having introduced a new food and beverage concept, Oasis, geared to exceeding the needs of today's traveler. "While our guests love the new look of the hotel, located just over the river from Washington, DC," stated Sami Zeitoun, Vice President of Operations, "behind the scenes, our team at the Hilton worked diligently to transition the hotel to the gem it is today. We are all very proud of how hard the hotel team worked to usher in an even higher level of guest service for the hotel to match the exciting major physical enhancements of the property."
Crescent Hotels & Resorts operates over 100 hotels throughout North America, including 15 hotels in the Washington, DC area.
ABOUT STAY IN WASHINGTON DC
Stay in Washington DC includes Crescent Hotels & Resorts' hotels located in and around Washington, DC. These properties are internationally recognized brands including, Hilton, Hyatt, Sheraton, Westin, Wingate by Wyndham, Radisson, Cambria Hotels & Suites and Best Western. Most hotels are in walking distance to a Metrorail or offer complimentary shuttle service that links guests to the city's world renowned Metrorail network. All locations offer various dining, shopping and entertainment options just minutes away via walking, complimentary shuttle or Metrorail. Several locations offer award winning restaurants right inside the hotels. For more information, visit http://www.stayinwashingtondc.com, like on Facebook.com, follow on http://www.twitter.com, follow on Instagram, subscribe on YouTube and connect on Google+. #StayinWashDC
ABOUT CRESCENT HOTELS & RESORTS
Crescent Hotels & Resorts is a nationally recognized, top-5 operator of hotels and resorts. Crescent currently operates over 100 hotels and resorts in 36 states in the US and 4 provinces in Canada. Crescent is one of the few elite management companies approved to operate upper-upscale and luxury hotels under the brand families of Marriott, Hilton, Starwood, Hyatt and IHG. Crescent also operates a collection of legendary independent hotels and resorts. Crescent's clients are made up of hotel REITs, private equity firms and major developers. For more information, please visit http://www.chrco.com.
rw Stayinwashingtondc.com #stayinwashdc