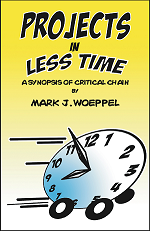 "I hope that when you read this, you'll gain an appreciation for the logical, tested foundation for the critical chain solution, and by understanding, be able to improve your project performance." - Mark Woeppel
Plano, TX (PRWEB) April 01, 2015
Mark Woeppel, the President and CEO of Pinnacle Strategies and author of several books on project management and execution, has announced that his book, Projects in Less Time: A Synopsis of Critical Chain, will be available for download at no cost on Amazon Kindle until April 4, 2015.
In the book, Woeppel, an early adopter and seasoned consultant and teacher of Dr. Eliyahu Goldratt's Theory of Constraints management methodology, gives an overview of the Critical Chain project management solution. The book uses Goldratt's book, Critical Chain, as a framework to help readers understand the main components of the solution, but supplements that information with not only a synopsis of relevant key concepts, but Woeppel's own observations and interpretations to help enhance understanding.
"There are many, many examples of organizations that have benefited from these methods," Woeppel said. "From product development, to construction, to software. I hope that when you read this, you'll gain an appreciation for the logical, tested foundation for the critical chain solution, and by understanding, be able to improve your project performance."
The book is available for free for Kindle on Amazon until April 4, 2015. You can download your copy here.
About Mark Woeppel
Based in Tulsa, Oklahoma, Mark Woeppel is the founder and President of Pinnacle Strategies International, a management consulting firm focused on operations management in production and project management. He was a very early adopter of Material Requirements Planning and the Theory of Constraints. Woeppel is known for taking the theory of things and making them applicable. So - while he understands the theory - he would much rather apply it. He is the author of two books, numerous white papers and presentations on the topic of improving process performance, and a blog on management and execution.
About Pinnacle Strategies
Pinnacle Strategies is an international productivity improvement firm specializing in production and manufacturing, project management, and knowledge work. We work with organizations to change execution results by improving collaboration, streamlining workflows, and refining management focus, ultimately translating operational improvements into real business value.
For more information, contact Pinnacle Strategies at info(at)pinnacle-strategies(dot)com, or +1(972)492-7951