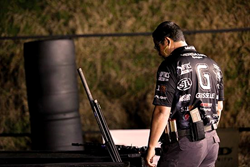 Northbrook, IL (PRWEB) April 02, 2015
OpticsPlanet sponsored 3-Gun Pro's Rob Romero, Jansen Jones and Kalani Laker's success from February continued into March with dominating performances and podium finishes across the country.
On March 14-15th the Remington VersaMax National Shotgun Championship Series continued with its second event held in New Hill, NC. Heavy rains and muddy conditions made this match especially challenging. Long range precision slug shots, low ports and shooting out of cars added to the challenges the weather presented. Despite all of the complexities thrown at Rob and Jansen throughout 14 courses of fire, Rob Romero took 3rd place overall in Tactical Division and Jansen Jones wound up 3rd place overall in Pump Division. Going into the third and final event, which will determine a national tactical shotgun champion in each category, Rob Romero and Jansen Jones sit tied for second place in their respective divisions. A win at the third and final even would ensure a national title. The third and final event is November 7th in New Hill, NC.
Next, Jansen and Kalani headed to Tulsa on March 20th for their televised segment of the 3 Gun Nation - Pro Series. Jansen and Kalani were in Group Two, which included a past 3 Gun Nation Championship winner and a runner up to a past 3 Gun Nation Champion in this "group of death" as some have called it. This event was filmed under the lights at night and included 3 elimination stages with the final two shooters advancing to the 3 Gun Nation Pro Series Shoot Off at U.S. Shooting Academy in October in Tulsa.
Kalani and Jansen would finish 1st and 2nd respectively out of the gate in round one, knocking out a past 3 Gun Nation champ in their wake. In round two again Kalani and Jansen would finish 1st and 2nd overall and advance to the third and final round. Kalani would take another 1st place stage finish and Jansen wound up third place on the final stage. Overall, Kalani and Jansen would finish in the Top 3 overall with Kalani advancing to the shoot off in October. Jansen missed the shoot off by less than 3 seconds overall. The event Jansen and Kalani were filmed in airs this coming June 2015 in The Sportsmans Channel.
Lastly, Kalani would finish out the month at this past weekend's Superstition Mountain Mystery 3-Gun Championship in Phoenix, Az. Shot over 3 days in the desert, this event is always a grueling and challenging match with several "circus" stages featuring targets flying into and out of range constantly. When the dust settled and scores tallied, Kalani Laker finished top ten overall out of field of over 360 competitors.
Our continued success could not be possible without the continued support from you. Thanks and stay tuned for more next month.
Where to find our shooters in April?
NRA SHOW - Nashville, TN!
Bushmaster Tar Heel 3 Gun Championships - Apex, NC!
X-Treme Bullets Texas 3 Gun Championship - Austin, TX!