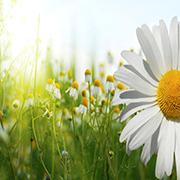 Our custom label solutions help distributors shine at all times of year, but this is particularly the case during the spring and summer months.
Omaha, NE (PRWEB) April 07, 2015
As the mercury rises and the snow melts away, companies are beginning to turn to distributors for label products that are applicable to the spring and summer seasons. Lancer Label can help distributors get ahead of the game with custom label solutions for a variety of uses across many vertical markets and industries.
Distributors that partner with Lancer Label are well-positioned to serve their customer base by meeting a variety of product and application needs. Lancer Label provides everything from vehicle stickers to number labels, but all of its offerings have one thing in common: They're high-quality and high-value.
From Summer Fun to Electioneering
Lancer Label's diverse assortment of custom labels and stickers includes:

Process color labels: These vibrant labels come in a range of shapes, sizes and hues, and are perfect for putting a spring in the step of businesses' product marketing strategies for... well, spring.
Repositionable labels: Great for sports and summer camp activities, Lancer Label's repositionable labels can be easily applied to and removed from surfaces, thanks to their unique adhesive.
Bumper stickers: There's nothing better than a bumper sticker to advertise summer camp participation or support summer sports teams - and it's never too early to think of election season.
Consecutive number labels: What do town parks, local beaches, schools and summer camps have in common? They all need to monitor and control traffic flow - and Lancer Label makes parking permit distribution a little easier with its consecutive number labels.
Distributors in Capable Hands with Lancer Label
"Our custom label solutions help distributors shine at all times of year, but this is particularly the case during the spring and summer months," commented Fred Nelson, vice president of sales at Lancer Label. "A host of new labeling needs arise at this time of year, and with Lancer Label, distributors have the ability to meet them all head-on."
With summer break still a couple of months away, the back-to-school rush is far from most people's minds, but it will be here sooner than they think. Distributors can get ahead of the class by promoting back-to-school label products now.
For those distributors ready to place orders, Lancer Label is offering free ground shipping for catalog label orders now through 5/1/15. Use code APRSHIP. Offer valid on catalog orders at catalog published quantities. Only available in the contiguous United States. Maximum discount is $1,000. This offer cannot be combined with other offers or promotions. Visit the Lancer Label website today!
About Lancer Label
With over 50 years of experience in the label industry, Lancer Label is dedicated to providing distributors quality label solutions from a supplier they can trust. Lancer Label offers the gold standard customer experience, quality products and versatile printing capabilities all at a great value. We make selling labels easy! For more information and to place orders online, visit LancerLabel.com. For the latest news and labeling promotional offers, find Lancer Label on Facebook, LinkedIn, Twitter and Google+.